Marinated Vegetables with Ginger
Marinating vegetables is a great time-saving way to preparing a nutritious dish for family and entertaining.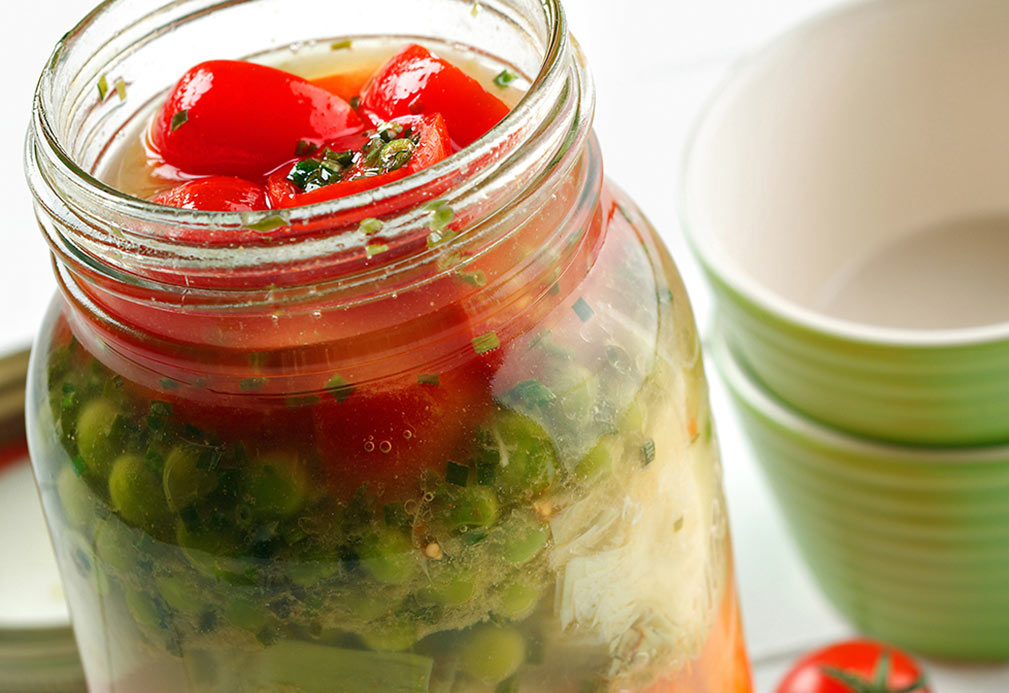 Ingredients
1/3 cup lemon juice 75 mL
3 Tbsp water 45 mL
3 Tbsp canola oil 45 mL
2 tsp chives 10 mL
2 tsp honey 10 mL
1 1/2 tsp ground ginger 7 mL
1/4 tsp salt 1 mL
1 (14 oz/ 398 mL) can artichoke hearts, drained and cut into halves
1 cup chopped carrots 250 mL
1/2 cup pearl onions 125 mL
1/2 cup cherry tomatoes, cut into halves 125 mL
1 cup peas* 250 mL
Instructions
1. Combine lemon juice, water, canola oil, chives, honey, ginger and salt in a screw top jar. Cover and shake. Set aside.
2. In a large bowl, combine artichoke hearts, carrots, pearl onion and tomatoes. Stir in marinade. Cover and marinade in the refrigerator for several hours or overnight, stirring occasionally. Drain vegetables and add peas before serving.
*Note: frozen peas may be used, but should be thawed and drained before adding to the rest of the vegetables.
Yield
6 servings
serving size
1/2 cup (125 mL)
nutritional analysis
Per Serving
Calories
130
Total Fat
7 g
Saturated Fat
0.5 g
Cholesterol
0 mg
Carbohydrates
14 g
Fiber
1 g
Protein
3 g
Sodium
270 mg