Mesquite Pork "Row" Salad
Row salads make a lovely presentation for a buffet table or for easy alfresco dining with guests. Instead of pork and asparagus, try using boneless chicken breast and thin green beans. Versatile canola oil does double-duty, on the grill and in the vinaigrette.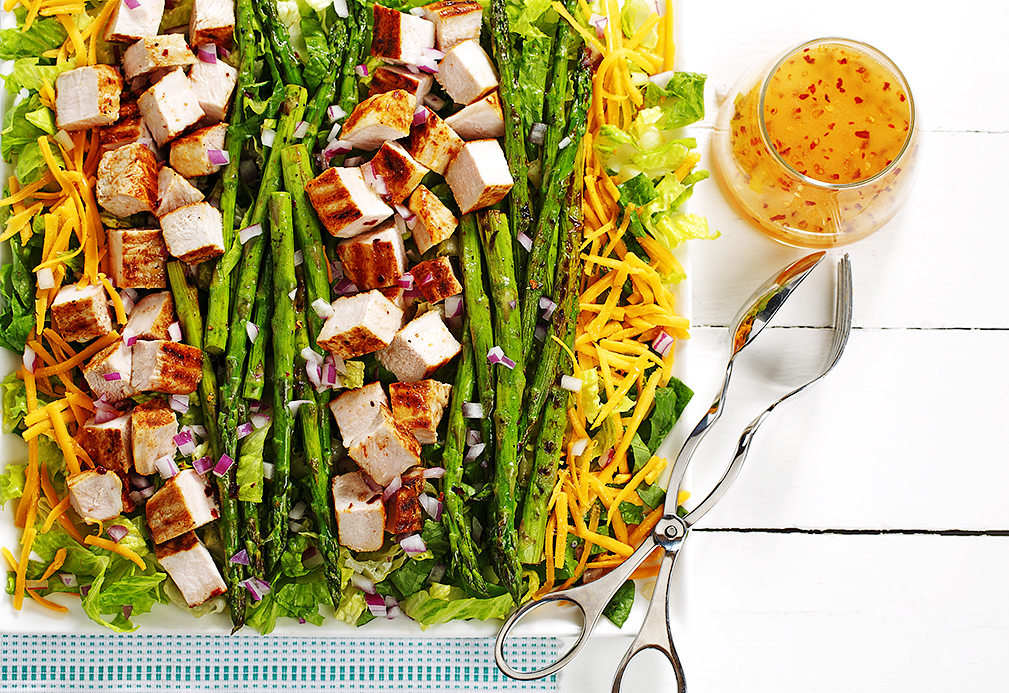 Ingredients
4 (4-oz./120 g) lean boneless pork chops
6 oz. asparagus spears, ends trimmed 170 g
1 Tbsp canola oil 15 mL
2 tsp smoked paprika 10 mL
1/2 tsp ground cumin 2 mL
1 (4.5-oz./128 g) pkg. shredded green leaf lettuce (or 5 cups (1.25 L) shredded romaine)
2 oz. shredded reduced-fat sharp cheddar cheese 60 g
1/4 cup white balsamic vinegar 60 mL
2 Tbsp canola oil 30 mL
2 Tbsp honey 30 mL
1/2 tsp salt 2 mL
1/4 tsp dried pepper flakes 1 mL
1/4 cup diced red onion 1 mL
Instructions
1. Heat a grill or grill pan over medium-high heat.
2. Brush both sides of the pork and asparagus with 1 Tbsp (15 mL) canola oil. Sprinkle both sides of pork with paprika and cumin. Grill pork 4 minutes, turn; add asparagus to the grill and cook 4 minutes or until internal temperature of pork reaches 145 °F (63 °C). Remove from heat and set aside to cool before cutting pork into 1/2-inch (1.25 cm) cubes.
3. Arrange lettuce on bottom of a platter, top with "rows" of pork, asparagus spears and cheese.
4. Whisk together vinegar, 2 Tbsp (30 mL) canola oil, honey, salt and pepper flakes in a small bowl. Drizzle evenly over all and sprinkle with onions.
Yield
4 servings
serving size
2 1/2 cups (625 mL) salad and 2 Tbsp (30 mL) dressing
nutritional analysis
per serving
Calories
350
Total Fat
17 g
Saturated Fat
3.5 g
Cholesterol
75 mg
Carbohydrates
16 g
Fiber
2 g
Sugars
12 g
Protein
32 g
Sodium
530 mg
Potassium
640 mg