Grilled Chicken & Pepperoncini Butter Lettuce Salad
Here is a colorful, one dish meal that is perfect for warmer weather. Canola oil's light flavor and texture don't compete with the other ingredients.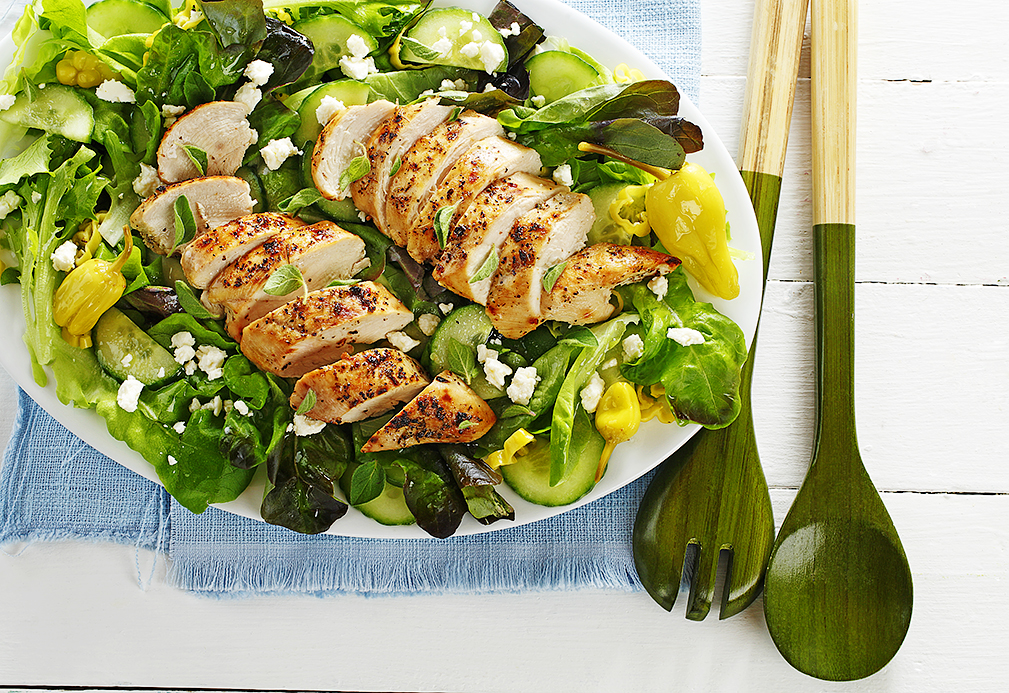 Ingredients
1 lb. boneless, skinless chicken breasts, rinsed and pat dry 500 g
1 Tbsp canola oil 15 mL
1 tsp dried Italian seasoning 5 mL
1/2 tsp ground black pepper 2 mL
6 cups butter lettuce blend (or torn butter and red leaf lettuces) 1.5 L
1 cup sliced cucumbers 250 mL
3 oz. crumbled reduced-fat feta 90 g
1 oz. sliced pepperoncini peppers 30 g
3 Tbsp canola oil 45 mL
1/4 cup dry white wine 60 mL
2 Tbsp red wine vinegar 45 mL
1/4 tsp salt 1 mL
2 Tbsp plucked fresh oregano 30 mL
Instructions
1. Heat a grill or grill pan over medium-high heat.
2. Coat both sides of the chicken breasts with 1 Tbsp (15 mL) canola oil; sprinkle with Italian seasoning and black pepper. Cook 6 minutes on each side or until no longer pink in center. Place on cutting board to cool before thinly slicing.
3. Meanwhile, place the lettuce on a large platter, top with cucumbers, feta and pepperoncini peppers. Arrange chicken slices on top (or around outer edges of lettuce mixture).
4. Whisk together 3 Tbsp (45 mL) canola oil, wine, vinegar and salt; drizzle evenly over all. Sprinkle with oregano.
Yield
4 servings
serving size
2 1/4 cups (560 mL) and 2 Tbsp (30 mL) dressing
nutritional analysis
per serving
Calories
340
Total Fat
20 g
Saturated Fat
3 g
Cholesterol
90 mg
Carbohydrates
4 g
Fiber
1 g
Sugars
1 g
Protein
31 g
Sodium
650 mg
Potassium
636 mg