Mixed Berry, Cucumber and Mint Salad with Lime Dressing
Strawberries and cucumbers have a natural affinity because the mild flavor and crunch of a cucumber partners perfectly with sweet, tender strawberries. Other contrasting flavors and textures come from fresh mint, honey mustard and lime zest. Canola oil allows these flavors to shine. The dressing has just four ingredients, so it's easy to make any weeknight.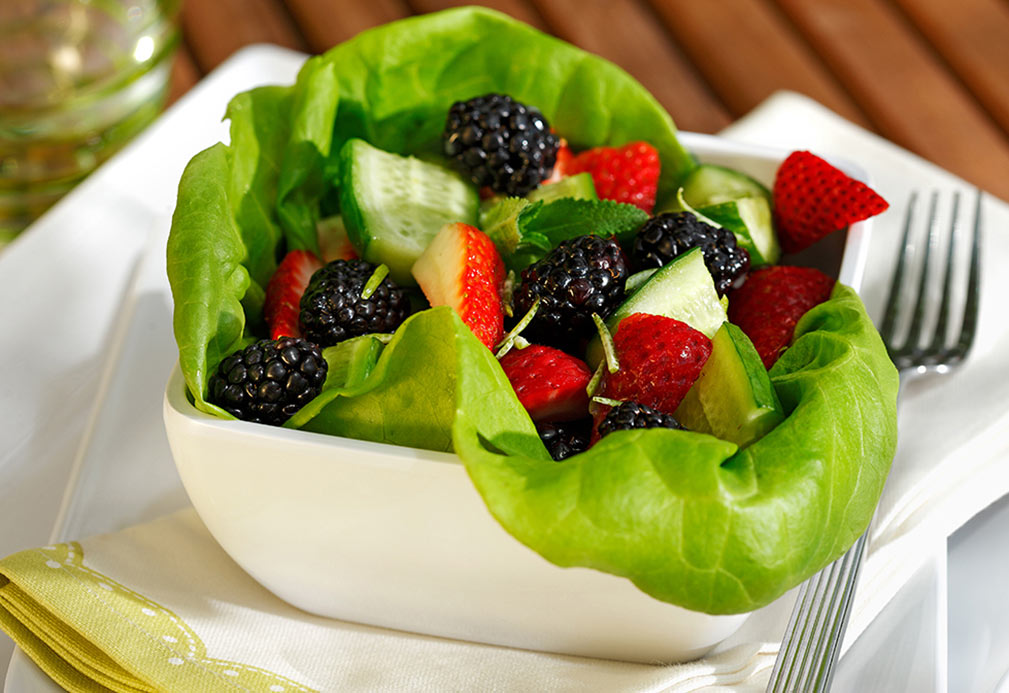 Ingredients
Lime Dressing
1 tsp finely grated lime zest 5 mL
2 Tbsp fresh lime juice 60 mL
1 Tbsp canola oil 15 mL
1 tsp honey mustard 5 mL
Salad
2 cups hulled and quartered fresh strawberries 500 mL
1 cup fresh blackberries 250 mL
1 medium cucumber, quartered lengthwise, seeded and chopped into 1-inch (2.5 cm) pieces
2 Tbsp chopped fresh mint 10 mL
4 large butter or Bibb lettuce leaves
Instructions
1. In large bowl, whisk together dressing ingredients. Add strawberries, blackberries, cucumber and mint, tossing to coat.
2. Arrange lettuce leaves on individual plates. Spoon strawberry mixture onto lettuce leaves and serve.
Tips: Strawberries and black pepper work well together. For added flavor, put 1/4 tsp ground black pepper in the dressing. The strawberries and blackberries can be swapped for other fruits - try raspberries and blueberries for variety. To make this a complete meal, add grilled or roasted chicken breast or grilled or steamed shrimp. And for a more savory version of the salad, add 2 tablespoons chopped fresh chives or whole green onions.
Yield
4 servings
serving size
1 cup (250 mL) strawberry mixture with dressing, 1 lettuce leaf
nutritional analysis
Per Serving
Calories
120
Total Fat
4.5 g
Saturated Fat
0 g
Cholesterol
0 mg
Carbohydrates
20 g
Fiber
8 g
Protein
3 g
Sodium
15 mg