Mussels in White Wine
Mussels are high in B12 vitamins and provide a readily absorbed source of many other B and C vitamins, amino acids, vital minerals including iron, manganese, phosphorus, potassium, selenium and zinc. They also have more omega 3 fatty acids than any other shellfish.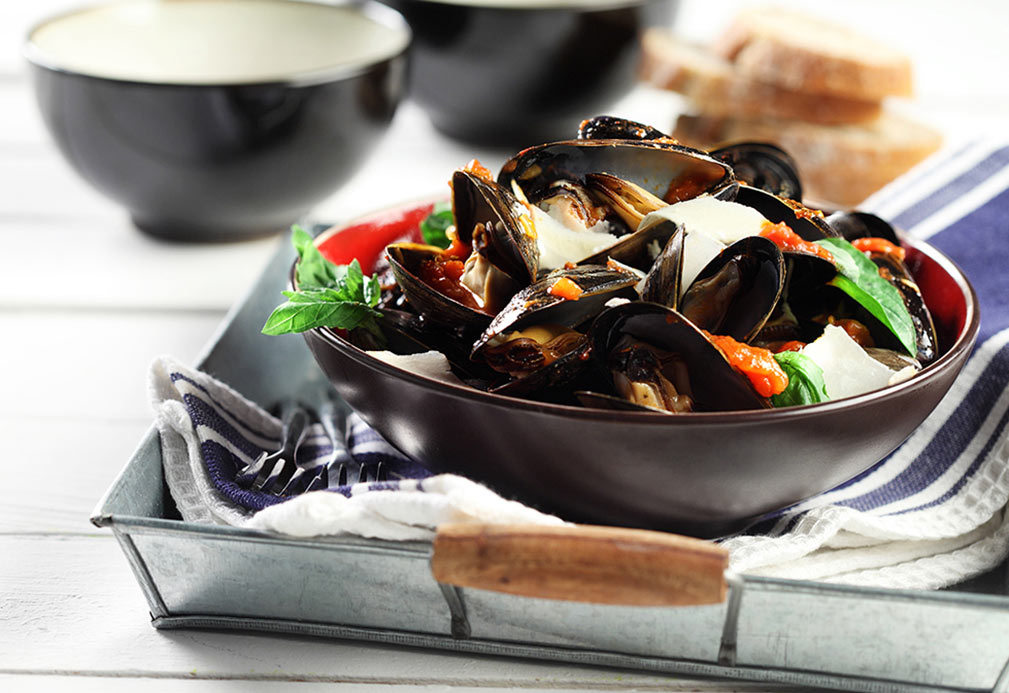 Ingredients
2 Tbsp canola oil 30 mL
2 shallots, thinly sliced
2 cloves garlic, minced
2 medium tomatoes, seeded and diced
1/4 cup dry white wine 60 mL
4 lbs fresh mussels 2 kg
1/4 cup chopped fresh basil 60 mL
1/4 cup shredded Parmesan cheese 60 mL
Instructions
1. In a non-stick skillet heat canola oil over medium high heat. Add shallots and garlic and sauté, stirring until the shallots are softened, about 1 to 2 minutes.Add tomatoes and continue to cook 1-2 more minutes.Add white wine and bring mixture to a boil. Add mussels. Cook and stir until all mussels open.  Discard any that have not opened.
2. Serve mussels in bowls and ladle some of the broth over each serving.  Sprinkle each serving with chopped basil and Parmesan cheese. Serve with crusty bread.
Yield
8 servings
serving size
10 mussels
nutritional analysis
Per Serving
Calories
260
Total Fat
10 g
Saturated Fat
1.5 g
Cholesterol
65 mg
Carbohydrates
11 g
Fiber
0 g
Protein
29 g
Sodium
710 mg