Cranberry Spinach Salad with Poppy Seed Dressing
A tasty salad with spinach, cranberries, almonds and canola oil!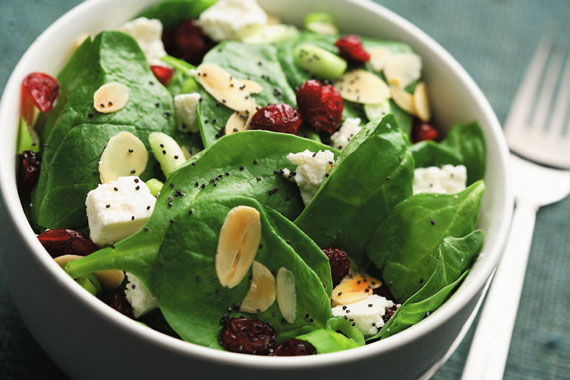 Ingredients
1 (10oz/284 g) bag of baby spinach leaves
1 cup dried cranberries 250 mL
2/3 cup toasted shaved almonds 150 mL
4 green onions, diced
1/3 cup crumbled light feta cheese 75 mL
Dressing:
2/3 cup canola oil 150 mL
2 Tbsp balsamic vinegar with raspberry juice vinegar 30 mL
1 Tbsp poppy seeds 15 mL
2 tsp granulated sugar 10 mL
1/2 tsp salt 2 mL
1/4 tsp pepper 1 mL
Instructions
1. In a large salad bowl combine spinach, cranberries, almonds, green onion and feta cheese.
2. In a separate small bowl, combine canola oil, balsamic vinegar, poppy seeds, sugar, salt and pepper. Mix well. Pour dressing over top of salad ingredients and toss lightly. Serve immediately.
Yield
6 servings
serving size
nutritional analysis
Per Serving
Calories
390
Total Fat
32 g
Saturated Fat
3 g
Cholesterol
0 mg
Carbohydrates
22 g
Fiber
4 g
Protein
6 g
Sodium
340 mg