Paint the Town Red Salad
Celebrate with this festive salad. Canola oil gives salad dressing a smooth yet light 'mouth feel'.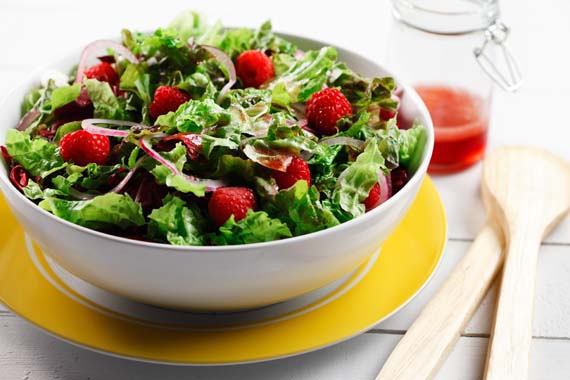 Ingredients
1 head red leaf lettuce, rinsed, patted dry
1 head radicchio lettuce OR
1 cup finely shredded red cabbage 250 mL
1 cup raspberries in light syrup, drained 250 mL
1/2 small red onion, cut into thin rings
Vinaigrette
3 Tbsp juice from raspberry 45 mL
2 Tbsp canola oil 30 mL
2 Tbsp raspberry vinegar 30 mL
1 tsp granulated sugar 5 mL
Instructions
1. In a large bowl, tear lettuce and radicchio into bite-sized pieces. Toss inraspberries and onion. Drizzle vinaigrette over salad and toss.
2. To prepare vinaigrette: combine raspberry juice, canola oil, vinegar and sugar in acontainer with a tight fitting lid. Shake until sugar dissolves. Serve immediately.
Yield
6 servings
serving size
nutritional analysis
Per Serving
Calories
80
Total Fat
5 g
Saturated Fat
0 g
Cholesterol
0 mg
Carbohydrates
8 g
Fiber
2 g
Sugars
5 g
Protein
3 g
Sodium
20 mg
Potassium
187 mg