Healthy Borscht
This meatless soup is a hearty main dish that needs only a salad, bread and a glass of milk to complete the meal.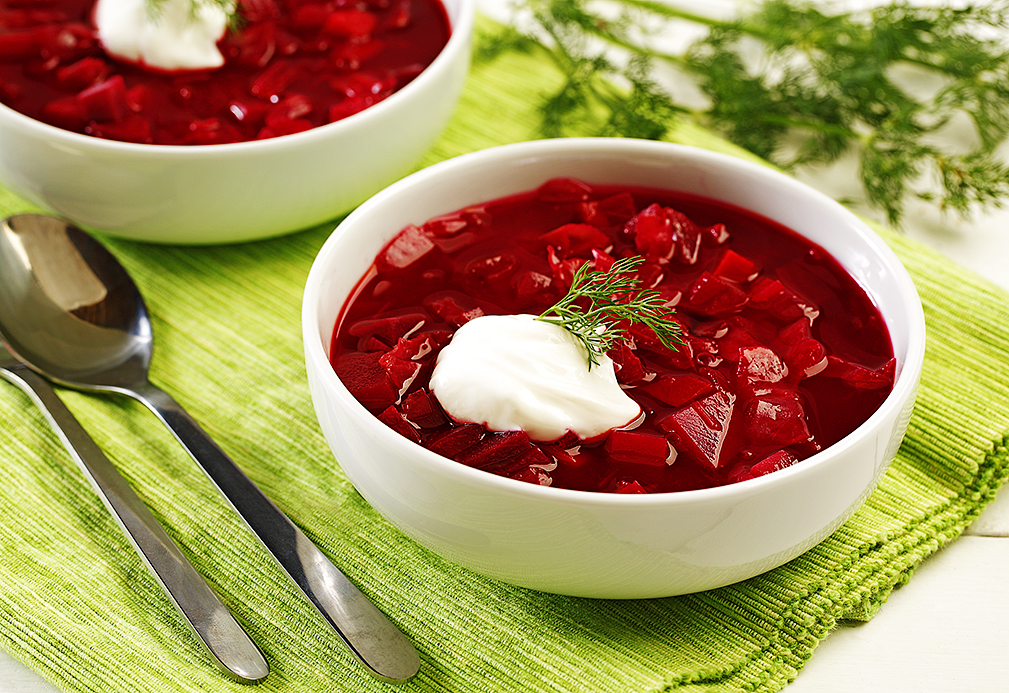 Ingredients
2 medium onions, chopped
1 cup diced carrots 250 mL
1 cup diced celery 250 mL
1 cup shredded cabbage 250 mL
3 Tbsp canola oil 45 mL
1 cup peeled and diced potatoes 250 mL
2 cups peeled and diced beets 500 mL
6 1/2 cups water 1.55L
1 cup low sodium tomato juice 250 mL
2 cups low sodium vegetable stock 500 mL
1 Tbsp lemon juice 15 mL
2 bay leaves
1 tsp salt 5 mL
fresh dill and parsley to taste
Instructions
1. In a large soup pot, saute onion, carrot, celery and cabbage in canola oil until cooked.
2. Add potatoes and beets and continue to saute for about one minute.
3. Add water, tomato juice and stock. Season with lemon juice, bay leaves and salt. Allow to simmer until potatoes are cooked about 15 to 20 minutes.
4. Add dill and parsley near the end of the cooking time.
5. Remove from heat and serve. Garnish each bowl with 1 Tbsp. (15 mL) low fat sour cream, if desired.
Yield
14 servings
serving size
1 cup (250 mL)
nutritional analysis
Per Serving
Calories
90
Total Fat
4 g
Saturated Fat
0 g
Cholesterol
0 mg
Carbohydrates
12 g
Fiber
2 g
Protein
2 g
Sodium
400 mg