Panko Crusted Fish Sticks
Easy to make, these fish sticks are also easy to enjoy with their crispy texture and chunky dip. Whip them up for a weeknight dinner the whole family will love.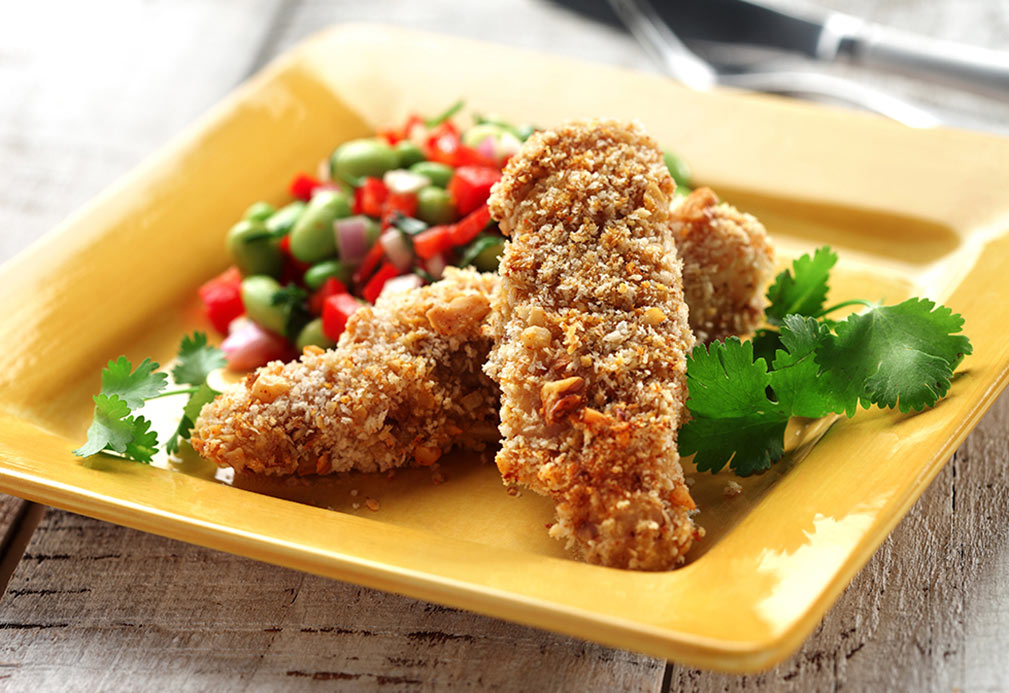 Ingredients
Edamame Salsa
1 1/2 cups frozen shelled edamame beans, thawed 375 mL
1/2 medium red pepper, diced    
1/2 small red onion, diced    
2 Tbsp chopped fresh cilantro 30 mL
2 Tbsp fresh lime juice 30 mL
1 Tbsp canola oil 15 mL 
Fish Sticks
1 cup whole wheat panko breadcrumbs 250 mL
1/2 tsp paprika 2 mL
1/4 cup finely chopped walnuts 60 mL
1/2 cup all-purpose or whole-wheat flour 125 mL
4 egg whites, lightly beaten
1 Tbsp canola oil 15 mL
1 1/2 lb grouper or cod, cut into 1 1/4-inch (3 cm) slices 750 g    
1/2 tsp sea salt 2 mL
1/2 tsp freshly ground black pepper 2 mL
2 Tbsp Dijon mustard 30 mL
Instructions
1. To make edamame salsa: in medium bowl, combine edamame beans, red pepper, onion, cilantro, lime juice and canola oil, mixing well. Cover and chill until ready to serve.
2. Preheat oven to 400 ˚F (200 ˚C).
3. In shallow dish, combine panko, paprika and walnuts. In another small dish, place flour. Whisk together egg whites and canola oil in third dish.
4. Season fish with salt and pepper and brush with Dijon mustard. Dip fish in flour, then egg and canola oil, and dredge in panko mixture, pressing firmly to coat. Place fish on lightly oiled baking sheet. Bake for 12 to 15 minutes or until fish flakes evenly when tested with fork. Serve with Edamame Salsa.
Tip: To make these into fish cakes, pulse the fish in a food processor about four times until the fish is ground (like ground chicken or pork). Continue with recipe at step 2.
Yield
6 servings
serving size
2 fish sticks and 1/3 cup (75 mL) salsa
nutritional analysis
Per Serving
Calories
390
Total Fat
10 g
Saturated Fat
1 g
Cholesterol
50 mg
Carbohydrates
43 g
Fiber
4 g
Protein
31 g
Sodium
440 mg