Penne with Chickpeas, Spinach and Roasted Asparagus
This recipe is delicious warm or cold, and made for leftovers. The addition of chickpeas gives it some heft and canola oil blends all of the flavors nicely.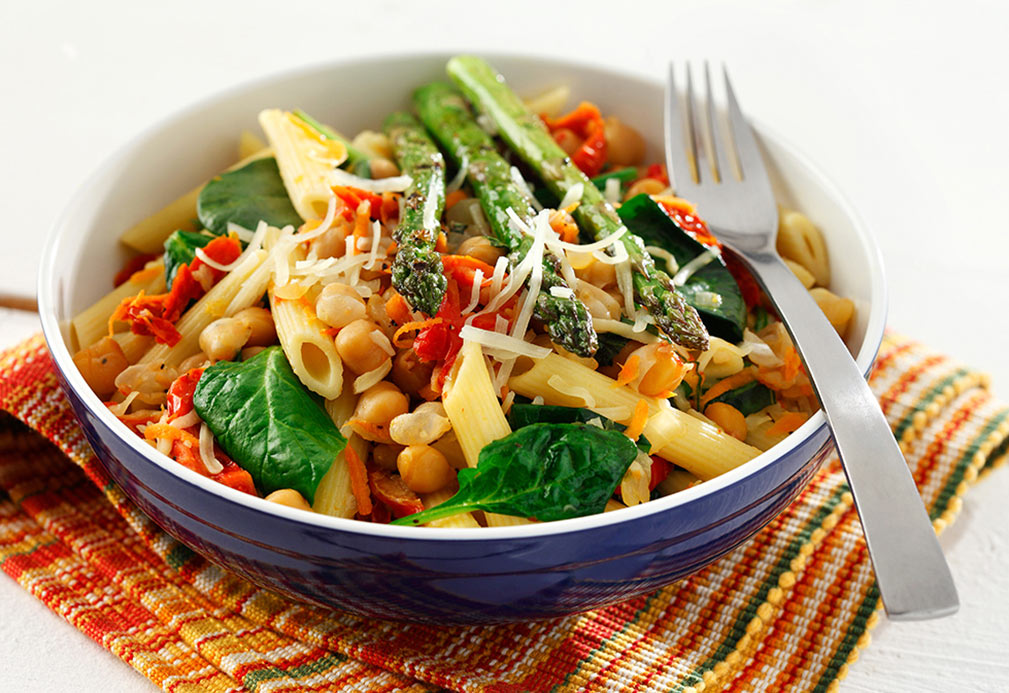 Ingredients
canola oil cooking spray
4 cups penne 1 L
12 stalks asparagus, woody ends snapped off
3 Tbsp canola oil 45 mL
1/2 tsp salt 2 mL
1/2 tsp freshly ground black pepper 2 mL
3 medium garlic cloves, finely minced
1 medium onion, cut in half lengthwise and thinly sliced
1 medium carrot, finely shredded                 
1/2 cup finely chopped fresh basil 125mL
1/2 cup thinly sliced sun-dried tomatoes 125mL
1 can (14 oz/398 mL) chickpeas, drained and rinsed
6 cups spinach leaves 1.5 L
1 cup vegetable stock or water 250 mL
1/2 cup grated Parmesan cheese 125 mL 
Instructions
1. Preheat oven to 450 ⁰F (230 ⁰C).
2. Cut asparagus into 1-inch (2.5-cm) lengths. Toss with 1 Tbsp (15 mL) canola oil, 1/4 tsp each (1 mL) salt and pepper. Place on parchment paper-lined baking pan and roast for 8 minutes or until asparagus is tender crisp and slightly browned. 
3. In large skillet over medium heat, sauté garlic and onions in 2 Tbsp canola oil (30 mL) for about 4 minutes or until onions are softened. Add carrots, basil and 1/4 tsp (1 mL) salt. Continue cooking, stirring frequently, for 3 minutes. Add sun-dried tomatoes, chickpeas, spinach and stock. Bring just to boil, lower heat and simmer for 5 minutes or until vegetables are tender. 
4. In large bowl, toss warm pasta with cooked vegetables. Stir in 1/4 tsp (1 mL) pepper and Parmesan cheese. Add roasted asparagus; toss well and serve. 
Yield
12 servings
serving size
1 cup (250 mL)
nutritional analysis
Per Serving
Calories
450
Total Fat
12 g
Saturated Fat
1 g
Cholesterol
5 mg
Carbohydrates
72 g
Fiber
11 g
Protein
16 g
Sodium
410 mg