Shrimp and Goat Cheese Penne
Shrimp and goat cheese are savory treats in this simple pasta dish, which makes a great weeknight dinner and leftover lunch.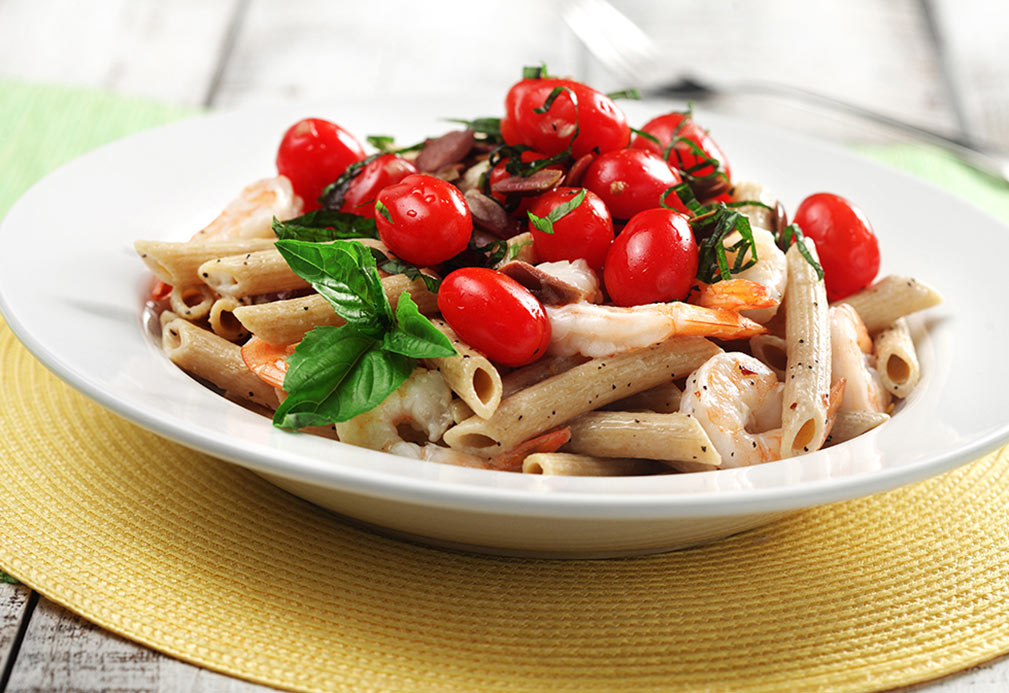 Ingredients
4 oz dry regular or whole grain penne pasta 125 g
1 lb medium raw shrimp, peeled and deveined 500 g
1 cup grape tomatoes, quartered 250 mL
16 pitted Kalamata olives, coarsely chopped
2 medium garlic cloves, minced
1/4 cup chopped fresh basil 60 mL
4 Tbsp canola oil, divided 60 mL
3 oz goat cheese, cut into small pieces 90 g
1/4 tsp dried pepper flakes 1 mL
1/4 tsp salt or to taste 1 mL
1/4 tsp coarsely ground black pepper or to taste 1 mL
Instructions
1. Cook pasta according to package directions, adding shrimp during last 4 minutes of cooking.
2. In small bowl, combine tomatoes, olives, garlic, basil and 2 Tbsp (30 mL) of canola oil and set aside.
3. Drain pasta mixture in colander, shaking off excess water. Place in shallow pasta bowl and gently stir in goat cheese, remaining 2 Tbsp (30 mL) canola oil, pepper flakes, salt and black pepper, until cheese is slightly melted. Top with tomato mixture. Do not stir.
Yield
4 servings
serving size
1 1/2 cups (375 mL)
nutritional analysis
Per Serving
Calories
500
Total Fat
28 g
Saturated Fat
7 g
Cholesterol
195 mg
Carbohydrates
640 g
Fiber
3 g
Protein
34 g
Sodium
640 mg