Pork and Noodle Stir-Fry
Add this dish to your weeknight repertoire for a great, one-pan meal with lots of veggies. Canola oil's neutral flavor and high heat tolerance is the perfect match for stir-frying.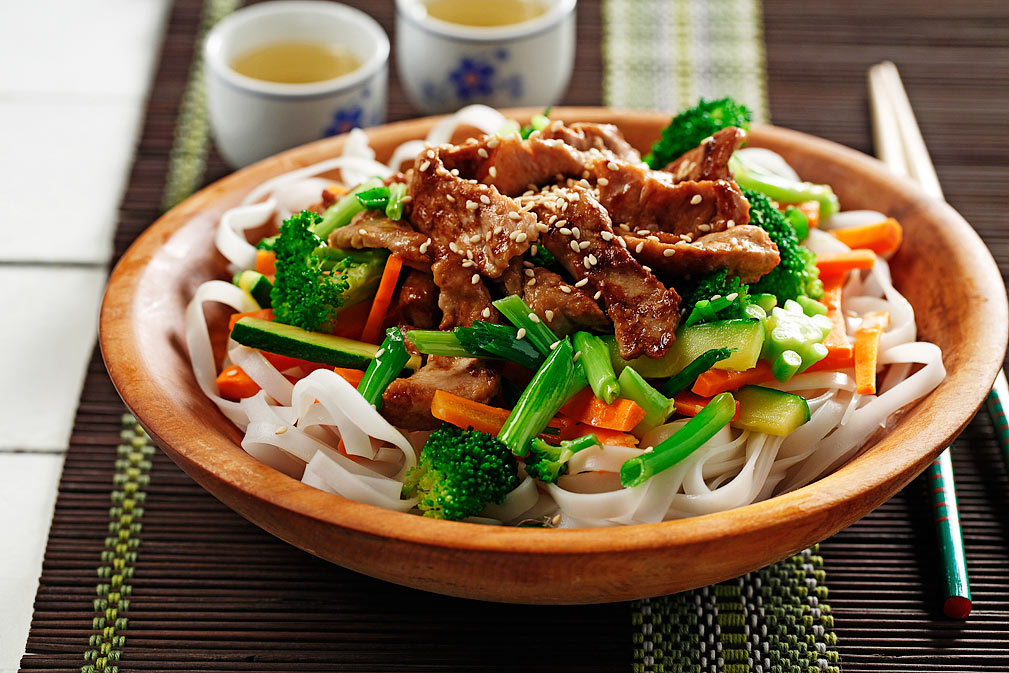 Ingredients
8 oz cellophane noodles 250 g
1 Tbsp cornstarch 15 mL
1 egg yolk
1 tsp sesame oil 5 mL
1 tsp low sodium soy sauce 5 mL
8 oz pork loin, thinly sliced 250 g
1 Tbsp canola oil 15 mL
1 clove garlic
3 scallions, white and green parts thinly sliced
1 Tbsp grated ginger 15 mL
3 carrots, peeled and julienned
1 medium zucchini, julienned
2 cups chopped broccoli 500 mL
1/4 cup low sodium soy sauce 60 ml
1 Tbsp Sriracha sauce (optional) 15 mL
3 Tbsp sesame seeds, toasted 45 mL
Instructions
1. In large bowl, place noodles. Cover with warm water and soak for about 15 minutes. Drain and using kitchen scissors or a knife cut in to noodles into shorter lengths.
2. In another bowl, combine cornstarch, egg yolk, sesame oil and soy sauce. Add pork slices and marinate for about 30 minutes.
3. In skillet, add canola oil and sauté garlic, onion and ginger. Add carrots, zucchini and broccoli. Sauté for about 3 minutes. Add meat with marinade and sauté until meat is just cooked. Add soy and Sriracha sauces. Add noodles and stir to combine. Cook until noodles are heated through. Sprinkle with toasted sesame seeds. Serve.
Yield
4 servings
serving size
1 1/4 cups (310 mL).
nutritional analysis
Per Serving
Calories
460
Total Fat
11 g
Saturated Fat
1.5 g
Cholesterol
85 mg
Carbohydrates
72 g
Fiber
4 g
Sugars
7 g
Protein
17 g
Sodium
680 mg
Potassium
669 mg