Pork Medallions with Apples
Traditional flavors, with fresh fruit crispness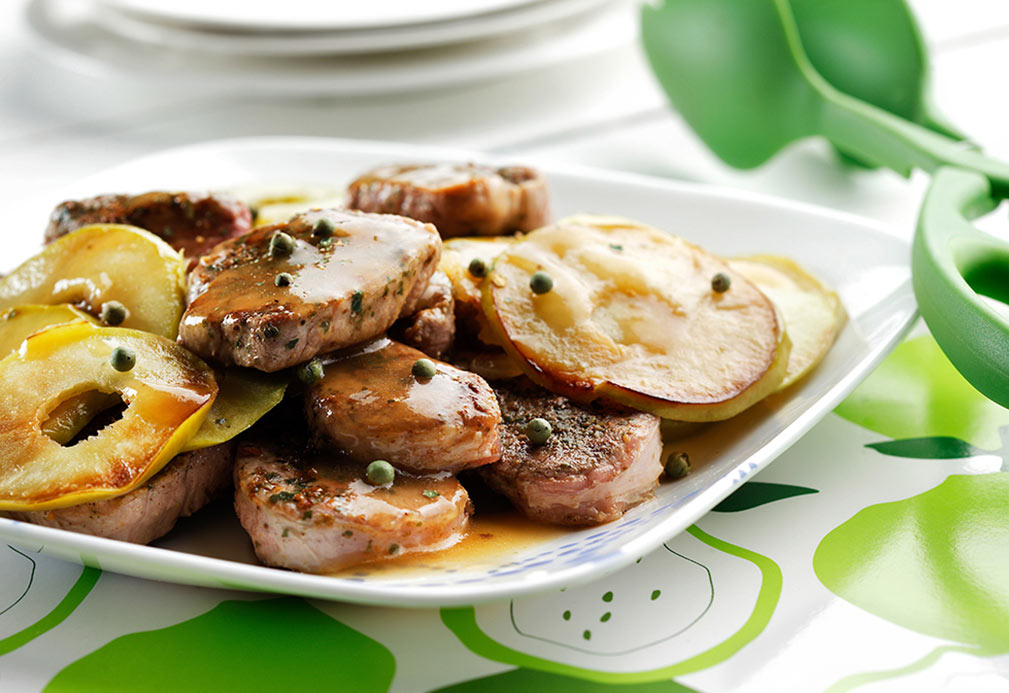 Ingredients
1/4 tsp garlic powder 1 mL
1/2 tsp poultry seasoning 2 mL
1/8 tsp nutmeg .5 mL
6-7 oz pork tenderloin, cut into 1/2-inch (1.25 cm) slices 170-200 g
1-2 tsp green peppercorns, crushed 5-10 mL
1 tsp canola oil 5 mL
1/2 green apple, unpeeled
1/2 Tbsp canola oil 7 mL
1 tsp cornstarch 5 mL
1/2 cup apple juice 125 mL
Instructions
1. In a small bowl, combine garlic powder poultry seasoning and nutmeg. Sprinkle on pork. Press peppercorns lightly into meat slices.
2. In a wok or large skillet heat 1 tsp (5 mL) of canola oil. Meanwhile, core apple and cut into thin slices. Saute apple slices in canola oil, about 3 minutes. Remove from wok. Add 1/2 Tbsp (7 mL) canola oil and pork slices to wok and brown, about 2 minutes per side. Remove from wok.
3. In another bowl, combine cornstarch and apple juice; add to wok. Heat until thickened. Add pork slices, cover and simmer about 8 to 10 minutes.
4. To serve, place pork slices on a serving plate. Top with apple slices and a few green peppercorns; spoon sauce over all.
Yield
2 servings
serving size
1 serving
nutritional analysis
Per Serving
Calories
210
Total Fat
8 g
Saturated Fat
1 g
Cholesterol
55 mg
Carbohydrates
17 g
Fiber
2 g
Protein
18 g
Sodium
85 mg