Tourtiére
While many French-Canadian tourtiéres do include mashed potatoes, the majority do not have grated potatoes in the bottom. I don't know when this tradition started with my family. Maybe it simply was my grandmother's response to difficult economic times. With more money, or fewer sons to feed, the layer of grated potatoes decreased, and the measure of meat rose - regional Canadian cuisine at its budgetary best!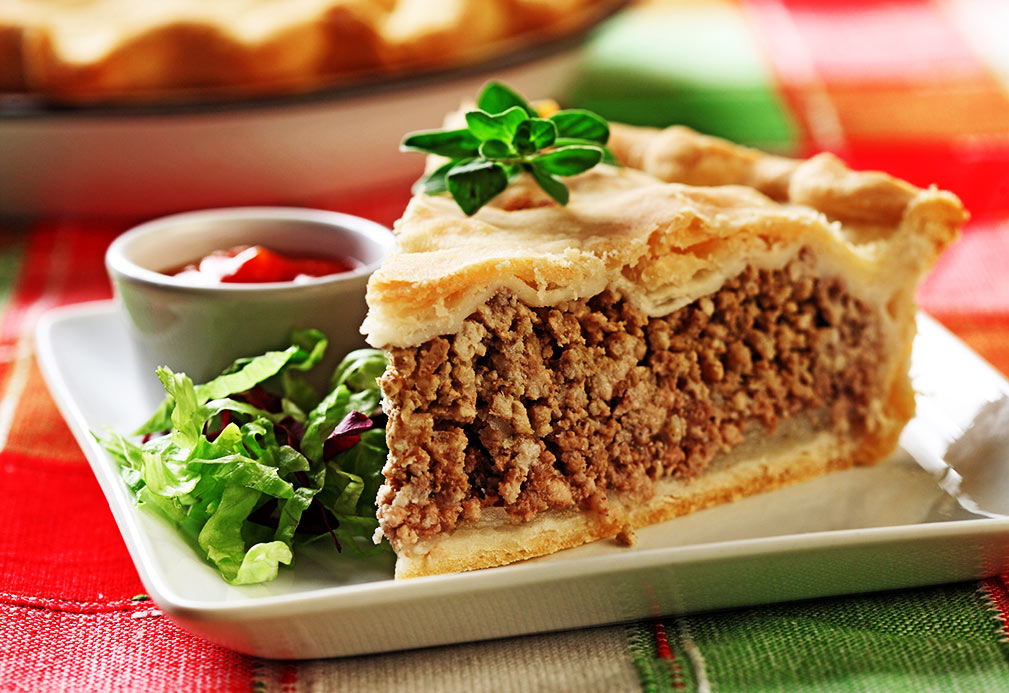 Ingredients
2 lb medium ground pork 1 kg
1 lb extra lean ground beef 500 g
1/4 medium onion, grated 1/4
1 cup water 250 mL
1/2 tsp each salt & pepper 2 mL
1/4  tsp each ground allspice & nutmeg 1 mL
pinch ground cloves
1 cup peeled & grated potato 250 mL
pastry for two double crust 9-inch pies
Instructions
1. There is enough filling for two meat pies. In a heavy bottom pot, place meat, onion, water, salt and pepper. Bring to the boil and reduce heat to medium. Cook until meat is well cooked, and no pink remains. Add allspice and nutmeg, plus a very small pinch of cloves. Mix well and taste. Add more salt if needed.
2. Place bottom pie crusts in pie plates. Spread half of the grated potato over each pie crust. Sprinkle with salt. Top with 3 cups (750 mL) of meat mixture. Place second crust over entire mixture. Seal edges and cut vents into top pastry to allow steam to escape.
3. Bake 8-9 inch meat pie in a 400 °F (200 °C) oven for 15 minutes; reduce oven heat to 350 °F (180 °C) and bake for another 35 minutes. Remove pie from the oven and allow cooling for 5 minutes prior to cutting and serving.
Yield
2 pies
serving size
1/8 pie
nutritional analysis
Per Serving
Calories
490
Total Fat
33 g
Saturated Fat
9 g
Cholesterol
55 mg
Carbohydrates
31 g
Fiber
0 g
Protein
17 g
Sodium
400 mg