Pork Tenderloin, Potatoes and Horseradish Mustard Seed Sauce
The meat and potatoes in this zesty dish never tasted so good!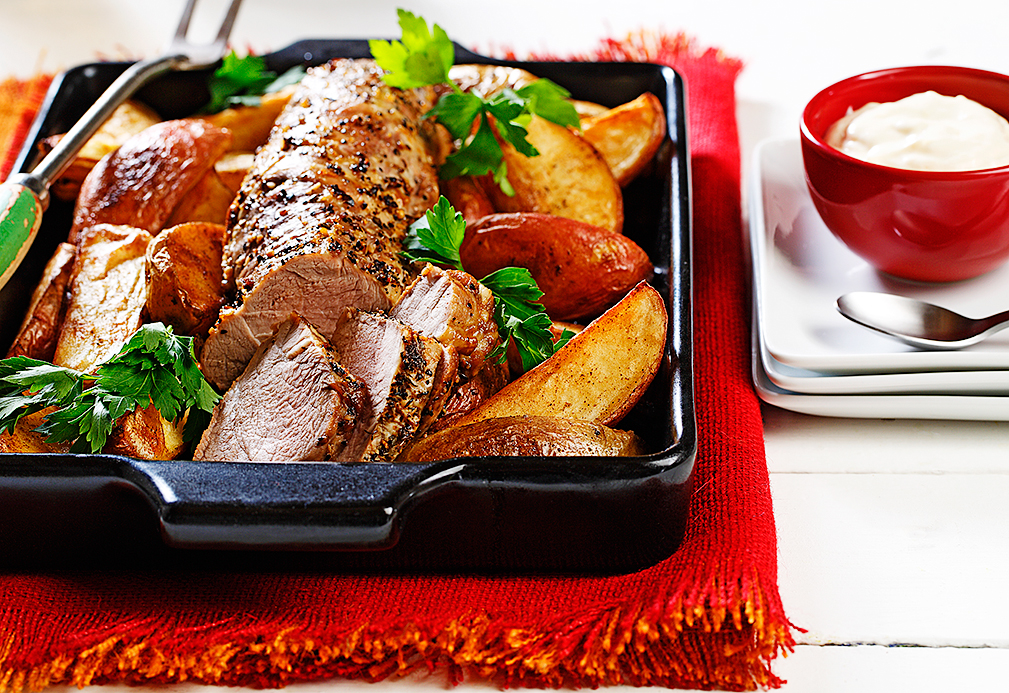 Ingredients
1 Tbsp canola oil 15 mL
1 lb pork tenderloin 500 g
1 tsp salt-free seasoning, such as steak seasoning blend 5 mL
1/4 tsp salt 1 mL
5 new potatoes (about 1 lb total), quartered 5
paprika
1/3 cup fat-free sour cream 75 mL
2 Tbsp canola mayonnaise 30 mL
1 Tbsp water 15 mL
2 tsp prepared horseradish 10 mL
2 tsp coarse-grain Dijon mustard 10 mL
1/4 tsp salt 1 mL
Instructions
1. Preheat oven to 425F (220). Cover baking sheet with foil.
2. Heat canola oil in a large nonstick skillet over medium high heat. Sprinkle pork tenderloin with seasoning blend and 1/4 tsp (1 mL) salt. Cook 3 minutes, turn, and cook 2 more minutes. Place pork on the prepared baking sheet.
3. Add potatoes to skillet, and sprinkle with paprika. Toss to coat, preferably with a heat resistant rubber spatula, and cook for 1 minute.   Place potatoes around pork, and roast for 18-20 minutes or until a meat thermometer inserted into thickest part of meat registers 160F (325C).
4. Meanwhile, combine sour cream, canola mayonnaise, water, horseradish, and Dijon mustard in a small bowl.
5. Place pork on the cutting board and let stand 5 minutes before slicing. Pull sides of foil up around potatoes, seal foil, and let stand. Slice pork and place on a serving platter. Sprinkle remaining 1/4 tsp (1 mL) salt over potatoes, and place potatoes around pork with any accumulated juices. Serve with sour cream mixture.
Flavorful Tip: Tossing the cut potatoes in paprika and the pan residue adds a rich brown, glistening color to the potatoes.
Yield
4 servings
serving size
about 5 slices (3 ounces) pork, 5 potato wedges, and 2 Tbsp (30 mL) sauce
nutritional analysis
Per Serving
Calories
265
Total Fat
9 g
Saturated Fat
1.3 g
Cholesterol
65 mg
Carbohydrates
19 g
Fiber
2 g
Protein
25 g
Sodium
465 mg