Poutine Gravy
Home-made gravy from scratch!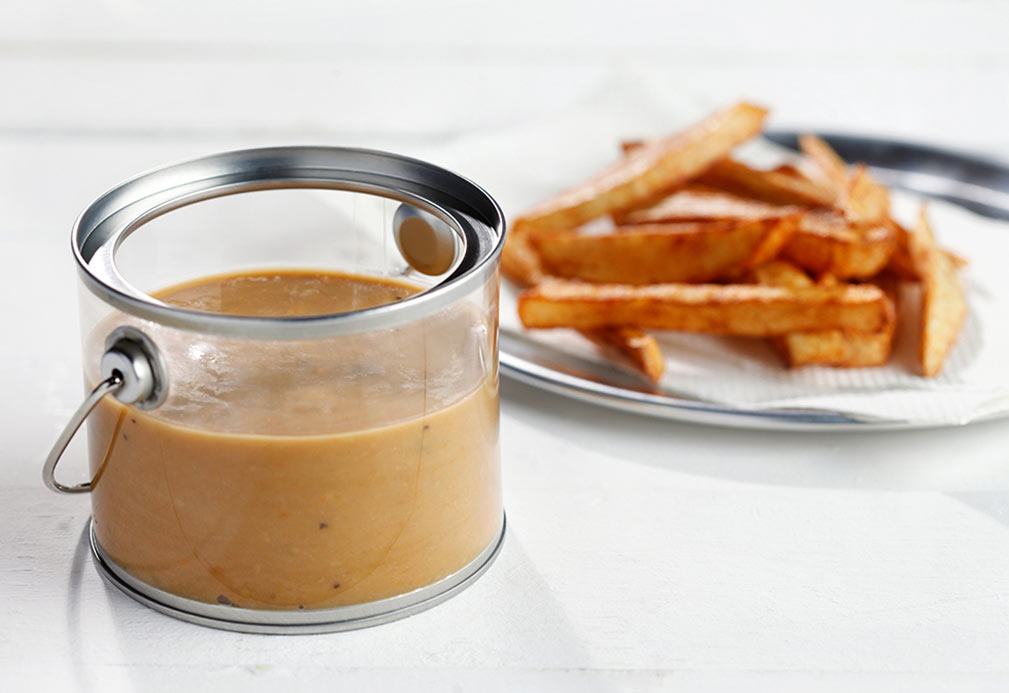 Ingredients
3/4 cup diced yellow onion 175 mL
2 Tbsp diced carrot 30 mL
2 Tbsp diced celery 30 mL
2/3 cup canola oil 150 mL
1 Tbsp chopped sage 15 mL
1/2 tsp tomato paste 2 mL
1/3 cup all-purpose flour 75 mL
4 cups beef stock 1 L
1 Tbsp Worcestershire sauce 15 mL
1 tsp chopped garlic 5 mL
1 Tbsp chopped rosemary 15 mL
1 tsp salt 5 mL
1/2 tsp pepper 2 mL
Instructions
1. In large saucepan, sweat onion, carrot and celery in canola oil over medium heat until they are slightly caramelized. Stir frequently. Add sage and tomato paste and sauté for 1-2 minutes.
2. Sprinkle vegetable mixture with flour and combine to form roux. Heat for about 30 seconds. Add stock, Worcestershire sauce and garlic. Simmer for 35 minutes.
3. Season with rosemary, salt and pepper. Simmer for additional 10 minutes. Using immersion blender, purée gravy. Leftover gravy can be frozen for future use.
Yield
5 cups (1.25 L)
serving size
1/2 cup (125 mL)
nutritional analysis
Per Serving
Calories
170
Total Fat
15 g
Saturated Fat
1 g
Cholesterol
0 mg
Carbohydrates
6 g
Fiber
0 g
Sugars
1 g
Protein
3 g
Sodium
440 mg
Potassium
215 mg