Eye of Round Roast with Rich, Dark Gravy
The secret to this deep-flavored dish is instant coffee, which "beefs" up the taste. Canola oil's high heat tolerance is ideal for browning the beef.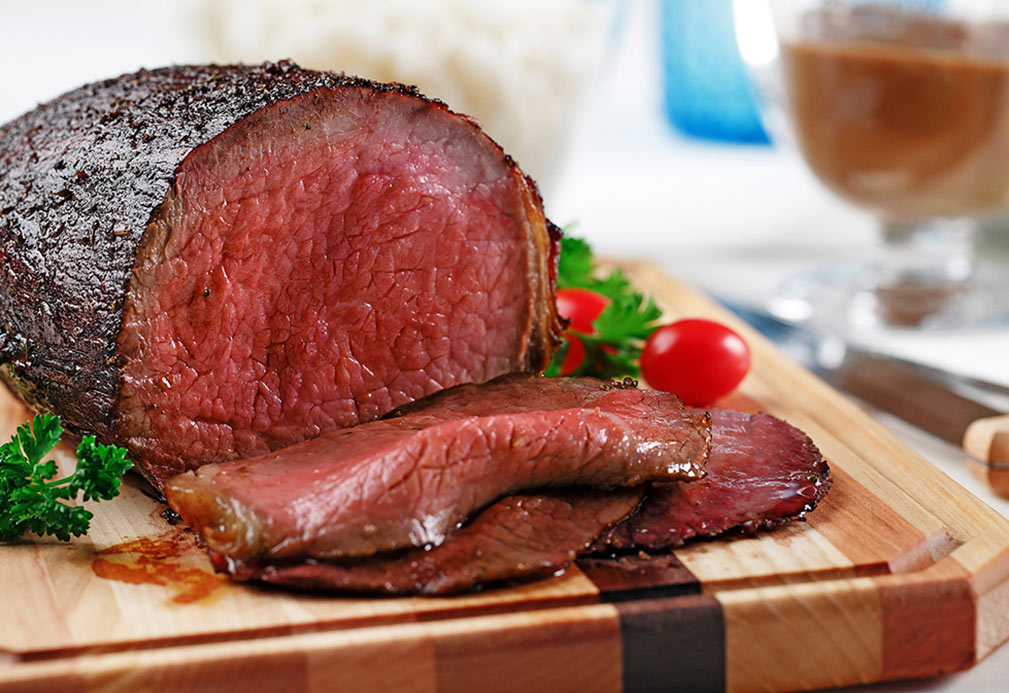 Ingredients
2 lb eye of round beef roast, trimmed 1 kg
2 Tbsp canola oil, divided 30 mL
1 Tbsp Worcestershire sauce 15mL
1 cup water, divided 250mL
1 Tbsp instant coffee granules 15mL
1 Tbsp sodium-free beef bouillon granules 15mL
1 tsp dried oregano 5mL
1 tsp garlic powder 5mL
3/4 tsp black pepper, divided 4mL
1/2 tsp salt, divided 2 mL
2 Tbsp all-purpose flour 30mL 
Instructions
1. Preheat oven 325° F. (160 °C). Coat 9 x13-inch (22 x 33-cm) baking pan with canola oil cooking spray. 
2. In medium skillet, heat 2 tsp (10 mL) canola oil over medium-high heat. Brown beef 2 minutes on each side then place beef in baking pan. Add 1/4 cup (60 mL) water and Worcestershire to skillet, stir bottom and sides, and pour over beef. 
3. In small bowl, combine coffee granules, bouillon granules, oregano, garlic powder, 1/2 tsp (2 mL) black pepper and 1/4 tsp (1 mL) salt. Sprinkle evenly over all. 
4. Cover tightly with foil and cook 45-50 minutes or until meat thermometer reaches 145 °F (63 °C) for medium rare and 160 °F (71 °C) for medium to well done. Place beef on cutting board and let stand 15 minutes before slicing. (Note: Temperature will rise another 10 degrees while resting.) 
5. To pan residue in skillet, whisk in flour and remaining canola oil until smooth. Gradually whisk in 3/4 cup (175 mL) water, cook on medium heat until thickened, stirring with flat spatula. Stir in 1/4 tsp (1 mL) salt and 1/4 tsp (1 mL) black pepper. Serve over sliced beef. 
Yield
8 servings (1 1/2 lbs/750 mg cooked beef and 1¼ cups/310 mL sauce)
serving size
3 oz cooked beef and about 2 Tbsp (30 mL) sauce
nutritional analysis
Per Serving
Calories
180
Total Fat
7 g
Saturated Fat
1.5 g
Cholesterol
65 mg
Carbohydrates
3 g
Fiber
0 g
Protein
26 g
Sodium
240 mg