Pumpkin Cupcakes
Pumpkin and baking spices transform these cupcakes into the ultimate fall treat. Canola oil keeps them tender with little saturated fat.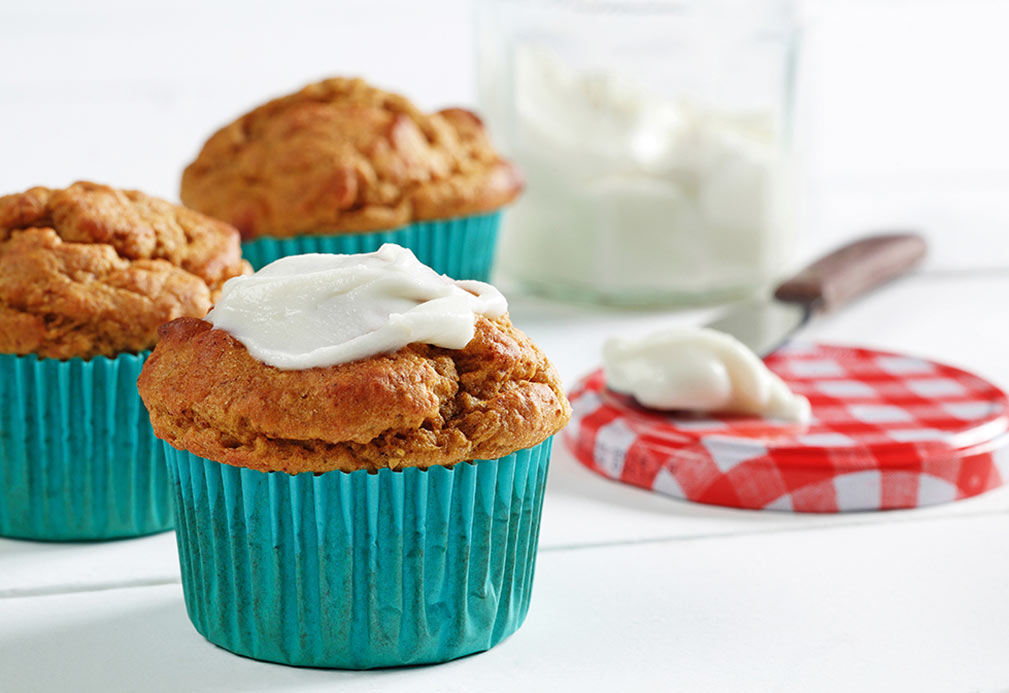 Ingredients
Cupcake
1 cup all-purpose flour 250 mL
1 cup whole wheat flour 250 mL
2 Tbsp baking powder 30 mL
1/3 cup granulated sugar 75 mL
1/3 cup brown sugar 75 mL
1/2 tsp cinnamon 2 mL
1/2 tsp ground cloves 2 mL
1 tsp ground ginger 5 mL
1/2 tsp salt 2 mL
3 eggs, separated
2 cups canned pumpkin purée 500 mL
1/4 cup canola oil 60 mL
1 cup milk 250 mL
1 tsp vanilla extract 5 mL
Icing
8 oz cream cheese at room temperature 250 mL
1/2 cup granulated sugar 125 mL
2 tsp vanilla extract 10 mL
Instructions
1. Preheat oven to 400°F (200 °C). Line muffin tin with paper cups.
2. In large bowl, combine flours, baking powder, sugars, cinnamon, clove, ginger and salt. Set aside.
3. In mixing bowl, beat egg whites until they form peaks, about 3 minutes. Transfer egg whites to another bowl.
4. To mixing bowl, add pumpkin purée, canola oil, milk, vanilla and yolks. Beat until smooth. Then add flour mixture and mix until just combined. Fold in egg whites.
5. Fill each muffin cup to 2/3 full. Bake for about 20 minutes or until toothpick inserted in middle of cupcake comes out clean. Let cool.
6. In bowl, mix all icing ingredients until smooth. When cupcakes are cool, top with icing.
Yield
24 cupcakes
serving size
1 cupcake with 2 tsp (10 mL) icing
nutritional analysis
Per Serving
Calories
140
Total Fat
7 g
Saturated Fat
3 g
Cholesterol
35 mg
Carbohydrates
19 g
Fiber
1 g
Sugars
11 g
Protein
3 g
Sodium
140 mg
Potassium
65 mg