Raspberry Cream Cupcakes with Cream Cheese Frosting
Canola oil is perfect for baking with its light texture, neutral flavor and high heat tolerance. Add fresh raspberries and cream cheese frosting to classic vanilla cupcakes for yummy results.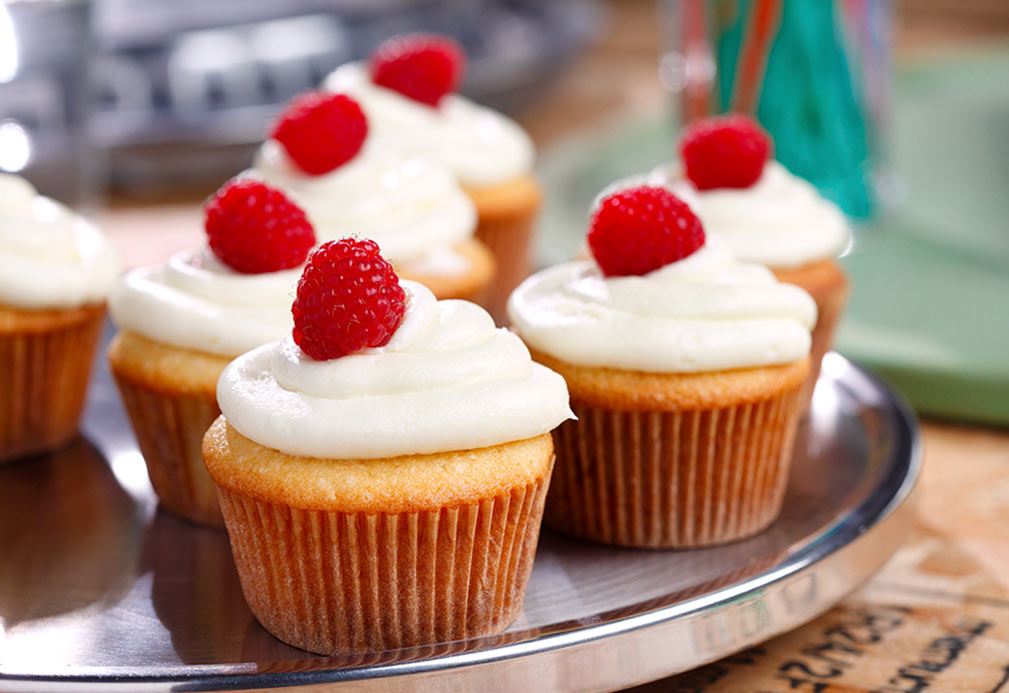 Ingredients
Cupcakes
2 cups granulated sugar 500 mL
4 eggs
1 cup milk 250 mL
3/4 cup canola oil 175 mL
1 tsp vanilla extract 5 mL
2 1/2 cups all-purpose flour 625 mL
2 tsp baking powder 10 mL
2 cup raspberries, fresh or frozen 500 mL
Cream Cheese Frosting
2 packages of cream cheese (8 oz.) at room temperature1 1/2 cups powdered sugar,
sifted 375 mL
1 tsp vanilla extract 5 mL
Instructions
1. Pre-heat oven to 350 °F (180 °C). Line muffin tin with 24 cupcake liners.
2. In medium bowl, combine sugar and eggs. Using electric mixer combine until mixture thickens, about 1 minute. Add milk, canola oil and vanilla. Continue to mix. Slowly add flour mixture until fully combined making sure to scrape sides of bowl with a spatula get out all lumps. Remove bowl from mixer.
3. Add 1 cup (250 mL) raspberries and gently mix by hand. Spoon mixture into muffin cups until about two-thirds full.
4. Bake for 20 minutes or until cupcakes spring back to touch. Remove from oven and cool cupcakes completely.
5. To prepare Cream Cheese Frosting: In medium bowl, mix cream cheese on medium speed until lump-free. Slowly add powdered sugar and vanilla extract until fully combined. Spoon cream cheese frosting into pastry bag with medium round tip and pipe onto cooled cupcakes. Top with one raspberry per cupcake. Serve right away or refrigerate until serving.
Yield
24 cupcakes
serving size
1 cupcake with frosting
nutritional analysis
Per Serving
Calories
270
Total Fat
14 g
Saturated Fat
6 g
Cholesterol
50 mg
Carbohydrates
30 g
Fiber
0 g
Sugars
22 g
Protein
4 g
Sodium
115 mg
Potassium
29 mg