Quick Jambalaya
Jambalaya is notorious for being complicated and taking a long time to make - but not this time! Enjoy the taste of N'awlins with just a few easy steps.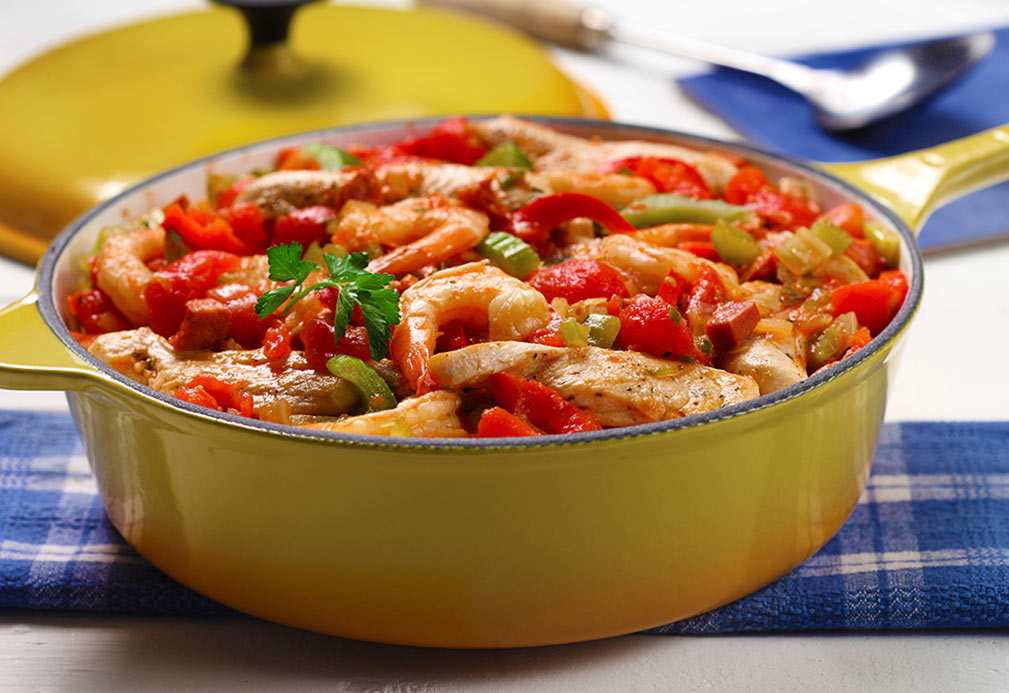 Ingredients
2 Tbsp canola oil 30 mL
1 lb chicken breast tenders or thinly sliced chicken breasts 500 g
1/2 tsp salt 2 mL
1/4 tsp pepper 1 mL
1/4 lb chorizo sausage, casing removed and finely diced 125 g
2 garlic cloves, minced
1 jalapeño pepper, seeded and finely diced
1 red pepper, cut into strips
2 celery ribs, chopped
1 onion, chopped
1 can (14 oz/398 mL) tomatoes, chopped
1 Tbsp chopped fresh thyme 15 mL
1/2 lb medium raw shrimp, peeled and deveined 250 g
2 cups cooked brown rice 500 mL
4 green onions, chopped
Instructions
1. In large non-stick skillet, heat canola oil over medium-high heat. Add chicken, salt and pepper and sauté 6 to 8 minutes until chicken is cooked through. Remove to plate and set aside.
2. Add sausage and garlic to skillet and sauté 1 to 2 minutes. Add jalapeño pepper, red pepper, celery and onion. Continue to sauté for 3 to 4 minutes until vegetables are tender crisp.
3. Add canned tomatoes and thyme. Simmer 10 minutes to reduce liquid.
4. Add shrimp and chicken back to skillet and cook until shrimp are done, about 3 minutes.
5. Serve over cooked rice. Garnish with chopped green onions.
Yield
8 servings
serving size
1 cup (250 mL)
nutritional analysis
Per Serving
Calories
270
Total Fat
11 g
Saturated Fat
2.5 g
Cholesterol
90 mg
Carbohydrates
18 g
Fiber
2 g
Protein
25 g
Sodium
540 mg