Apricot Chicken Tagine
Preventing heart disease starts right in the kitchen. My philosophy is simple - never give up what you like to eat, just change your recipes, using healthier ingredients. That is why I encourage my heart patients to use canola oil. It is the best universal oil for both baking and cooking.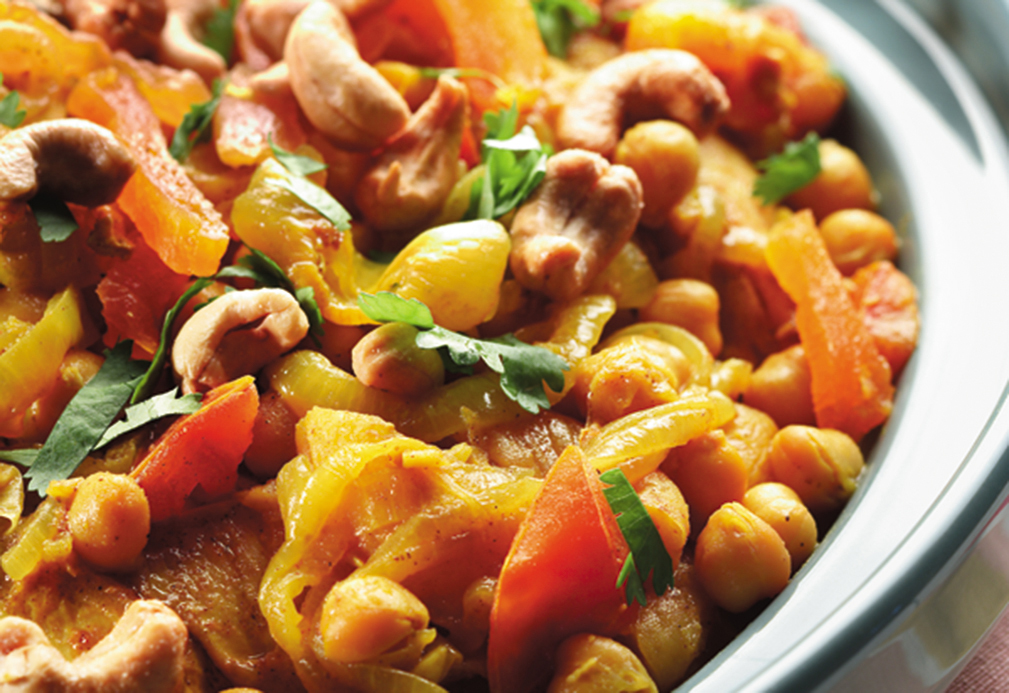 Ingredients
1 Tbsp canola oil 15 mL
4 small, skinless chicken breasts
1 yellow onion, sliced
1 Tbsp minced garlic 15 mL
1 Tbsp minced ginger 15 mL
1 Tbsp turmeric 15 mL
1 tsp ground nutmeg 5 mL
1 tsp ground cinnamon 5 mL
1 saffron thread (optional)
1 cup low-sodium vegetable broth 250 mL
1 cup dried apricots, halved 250 mL
1 can (14 oz/398 mL) garbanzo beans
1 cup diced fresh tomatoes 250 mL
1/2 cup cashews, chopped, toasted 125 mL
2 Tbsp fresh chopped cilantro 30 mL
Instructions
1. In tagine or large saucepan, add canola oil and brown chicken breasts 3-5 minutes. Remove and set aside.
2. Add onions, garlic, and ginger. Sauté 3 minutes. Add tumeric, nutmeg, cinnamon, saffron and vegetable broth. Simmer for 3 minutes.
3. Add apricots, beans and tomatoes. Bring to simmer again and add chicken breasts.
4. Set stovetop to low heat, cover and cook for 20 to 30 minutes until chicken is completely cooked.
5. Serve over couscous. Garnish with toasted cashews and cilantro.
Yield
4 servings
serving size
1 chicken breast
nutritional analysis
Per Serving (couscous not included)
Calories
570
Total Fat
18.5 g
Saturated Fat
3 g
Cholesterol
68 mg
Carbohydrates
62 g
Fiber
8.5 g
Protein
39 g
Sodium
330 mg