Quick Ratatouille
This classic dish is quick to make but still full of flavor.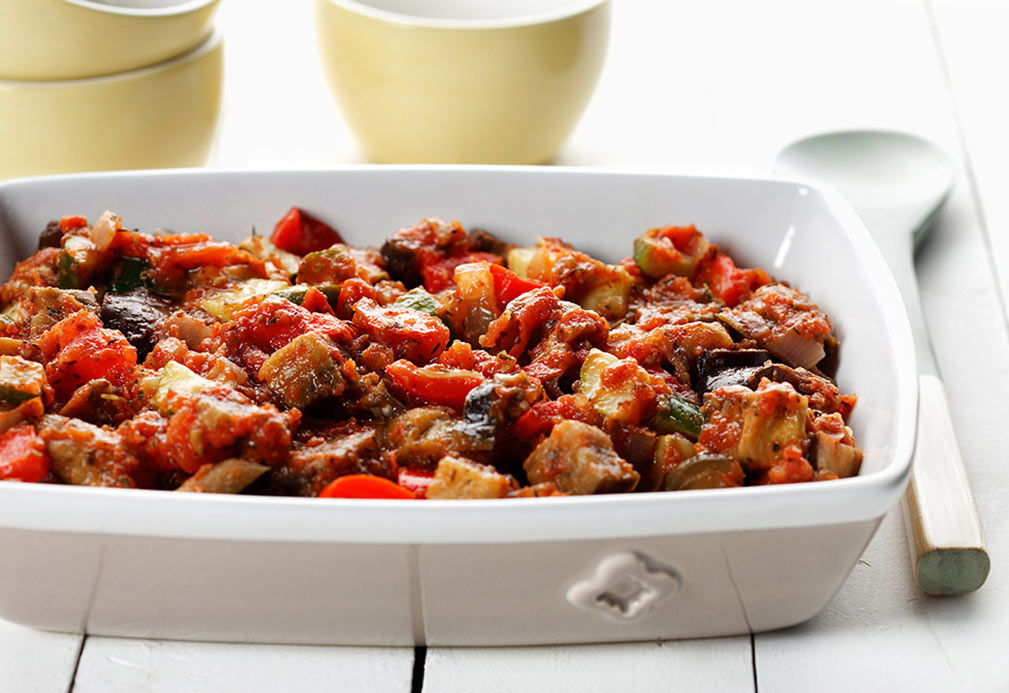 Ingredients
2 Tbsp canola oil 30 mL
1 medium onion, chopped
1 clove garlic, crushed
1 medium eggplant, large-diced
1 red pepper, chopped coarsely
3 cups tomatoes, chopped 750 mL
2 small zucchini, halved and sliced
1 tsp ground thyme 5 mL
2 Tbsp tomato paste 30 mL
1 tsp ground oregano 5 mL
1 tsp dried basil 5 mL
1 tsp granulated sugar 5 mL
1/2 tsp salt 2 mL
Instructions
1. In large skillet, heat canola oil over moderate heat.
2. Add onion and garlic, sauté until tender, about 3 minutes. Add eggplant, red pepper, tomatoes and zucchini; sauté about 3 more minutes. Stir in thyme, tomato paste, oregano, basil, sugar and salt. Simmer until vegetables are tender-crisp, about 15 minutes. Serve with crusty whole grain breads or over choice of whole wheat pasta or rice.
Yield
6 servings
serving size
1 cup (250 mL)
nutritional analysis
Per Serving
Calories
110
Total Fat
5 g
Saturated Fat
0 g
Cholesterol
0 mg
Carbohydrates
16 g
Fiber
6 g
Protein
3 g
Sodium
210 mg