Roasted Beet Salad with Citrus Vinaigrette
Beets are complemented in this colorful salad by orange, grapefruit and lemon flavors. Canola oil allows these flavors to shine along with zesty Dijon mustard and champagne vinegar.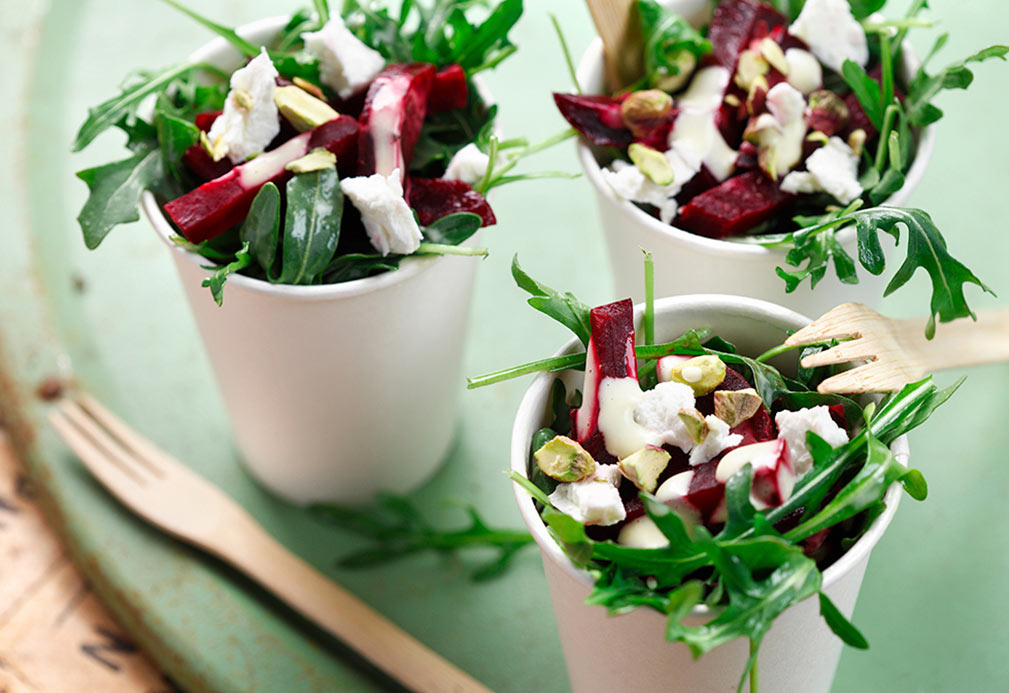 Ingredients
Citrus Vinaigrette
1/4 cup orange juice 60 mL
2 Tbsp grapefruit juice 30 mL
1 Tbsp lemon juice 15 mL
2 tsp orange zest 10 mL
2 tsp lemon zest 10 mL
2 tsp honey 10 mL
2 tsp Dijon mustard 10 mL
1/2 tsp kosher salt 2 mL
1 Tbsp champagne vinegar 15 mL
1/2 cup canola oil 250 mL
Roasted Beet Salad
15 oz arugula, rinsed and patted dry 450 g
6 beets, oven-roasted, peeled, sliced into strips
1/2 cup walnuts or pistachios, chopped 125 mL
1/2 cup goat cheese 125 mL
Instructions
1. In small saucepan, combine orange, grapefruit and lemon juices over medium heat. Simmer until it mixture is reduced by half. Add zest and let steep until room temperature.
2. Once cooled, add honey, Dijon mustard, salt and champagne vinegar. Using immersion blender, combine ingredients and then slowly add canola oil until mixture is emulsified.
3. In large bowl, toss arugula, beets and nuts with enough vinaigrette to coat. Leftover vinaigrette can be stored in refrigerator and used within 2-3 days. Top with goat cheese and serve.
Yield
10 servings
serving size
2 cups (500 mL) salad with 2 Tbsp (30 mL) vinaigrette
nutritional analysis
Per Serving
Calories
220
Total Fat
19 g
Saturated Fat
3.5 g
Cholesterol
0 mg
Carbohydrates
9 g
Fiber
2 g
Sugars
7 g
Protein
5 g
Sodium
230 mg
Potassium
320 mg