Roasted Salmon with Fresh Radish Relish
When radishes are plentiful in the garden or at the market, use them in this unusual fresh relish to serve with grilled chicken breast, pork chops or salmon fillets. Canola oil's light taste works well with the complex flavors in the relish while its high smoke point makes it perfect for cooking the salmon.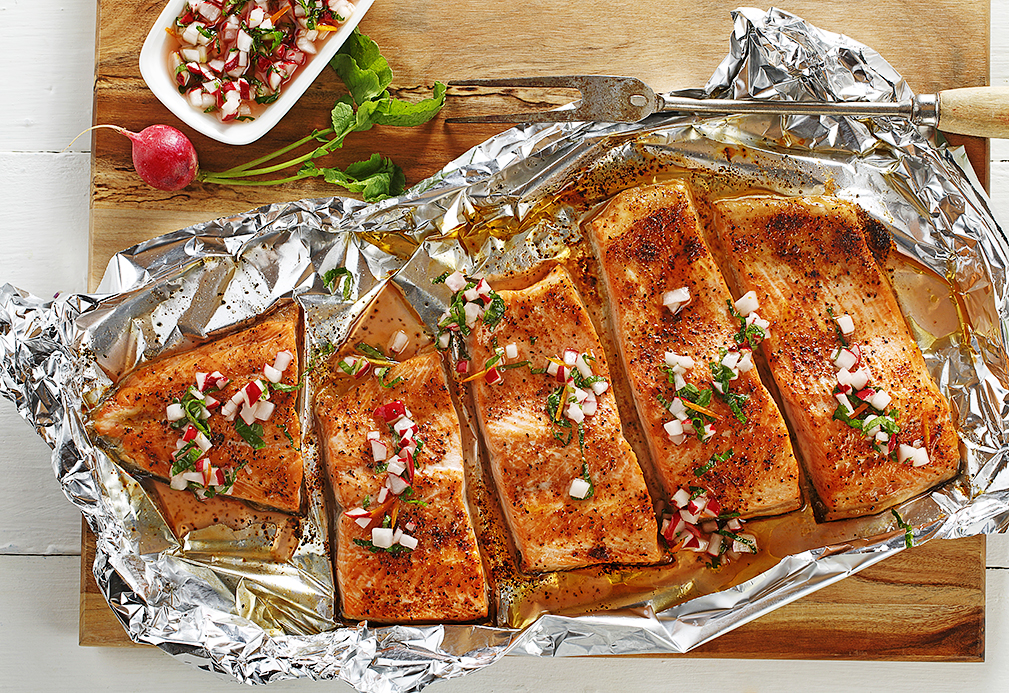 Ingredients
Relish
6 oz. radishes, finely chopped 170 g
2 Tbsp granulated sugar 30 mL
3 Tbsp lemon juice 45 mL
1 Tbsp canola oil 15 mL
1/2 to 1 tsp grated orange zest 2 – 5 mL
Pinch of crushed pepper flakes, optional
1/4 cup chopped mint 60 mL
Salmon
4 (4-oz./120 g) salmon fillets, rinsed and pat dry
1 Tbsp canola oil 15 mL
1/4 tsp chili powder 1 mL
1/4 tsp salt 1 mL
1/8 tsp ground black pepper 0.5 mL
Instructions
1. Preheat oven to 400 °F (200 °C).
2. In a small bowl, combine radishes, sugar, lemon juice, canola oil, orange zest, pepper flakes and mint.
3. Place the salmon fillets, skin side down, on a foil-lined baking sheet. Brush the fillets with 1 Tbsp (15 mL) canola oil, sprinkle with chili powder, salt and pepper. Bake 10-12 minutes or until fish flakes when tested with a fork.
4. Serve relish alongside fillets.
Yield
4 servings
serving size
3 oz. (90 g) cooked salmon and 1/3 cup (75 mL) relish
nutritional analysis
per serving
Calories
230
Total Fat
12 g
Saturated Fat
1.5 g
Cholesterol
50 mg
Carbohydrates
7 g
Fiber
1 g
Sugars
6 g
Protein
24 g
Sodium
250 mg
Potassium
537 mg