Romaine Tarragon Salad with Blue Cheese Vinaigrette
Canola Oil's quality nutritional profile makes an excellent choice for healthful salad making, especially when fats are added, such as cheese.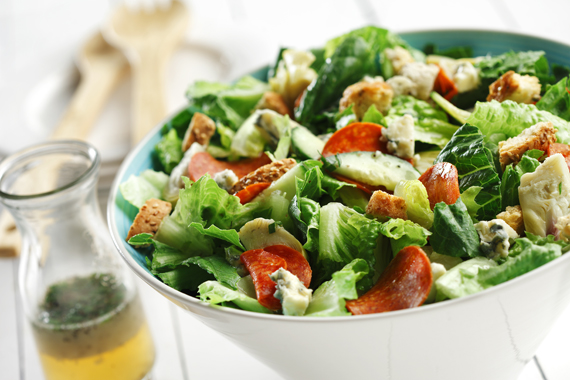 Ingredients
 2 oz multigrain or whole wheat bread, cut into 1/2 inch cubes 57 g
4 cups loosely packed chopped romaine lettuce (4 oz/125 g) 1L
1/2 medium cucumber, peeled and chopped
1/2 (14 oz/400 g) can quartered artichoke hearts, drained and rinsed
16 small turkey pepperoni slices, shopped
 2 Tbsp white balsamic vinegar 30 mL
1 Tbsp canola oil 15 mL
1 medium garlic clove, minced
3/4 - 1 1/2 tsp chopped fresh tarragon 4-7 mL  OR 1/4 - 1/2 tsp dried tarragon, crumbled 1-2 mL
1/4 tsp coarsely ground black pepper 1 mL
1 oz reduced fat or regular blue cheese, crumbled 28 g
Instructions
1. Place bread cubes on a baking sheet. Place in a cold oven and turn oven on to 350 F (175 C). Bake 10 minutes or until lightly golden. Turn off oven. Place bread cubes on separate plate to cool quickly.
2. Meanwhile combine the lettuce, cucumber, artichokes, and pepperoni in a salad bowl.
3. Combine the vinegar, canola oil, garlic, tarragon and pepper in a small jar, secure lid and shake vigorously until well blended. Spoon the vinegar mixture evenly over the lettuce mixture, add the bread cubes and toss gently, yet thoroughly to blend well. Add the cheese and toss gently.
Note: There's no need to preheat the oven, it's time-consuming and the croutons bake in the time it takes to reach 350 F (175 C). 
Yield
4 servings; 4 cups (1 L)
serving size
1 cup (250 mL)
nutritional analysis
Per Serving
Calories
150
Total Fat
7 g
Saturated Fat
2 g
Cholesterol
15 mg
Carbohydrates
15 g
Fiber
4 g
Protein
8 g
Sodium
610 mg