Romesco Sauce
Recipe developed at The Culinary Institute of America (CIA) by Chef Instructor Brenda La Noue. See Chef Tucker Bunch prepare the recipe in the video.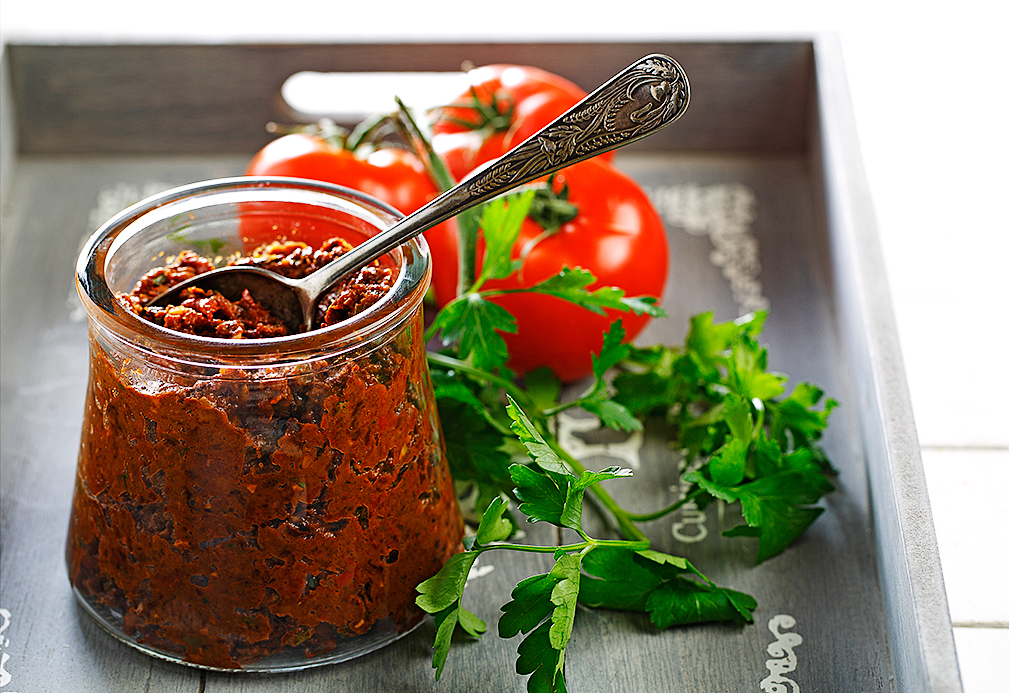 Ingredients
3 oz canola oil
1 red bell pepper, roasted
3 dried ancho chiles, seeded, soaked, minced
1 jalapeño or serrano chiles, seeded and roughly chopped
3 tomatoes, roasted in oven 
3 garlic cloves, minced 
24 almonds, lightly toasted 
24 hazelnuts, lightly toasted 
1 Tbsp parsley, chopped 
2 bread slices, fried 
2 to 3 tsp red wine vinegar
Instructions
1. In large skillet, heat canola oil. Sauté the peppers until soft.
2. Combine peppers, tomatoes, garlic, almonds, hazelnuts, parsley, bread and red wine vinegar in food processor. Pulse until the mixture is consistent with the nuts still detectable, finely chopped but not puréed.
Yield
2 - 2 1/2 cups (500 - 625 mL)
serving size
1/4 cup (60 mL)
nutritional analysis
Calories
140
Total Fat
12 g
Saturated Fat
1 g
Cholesterol
0 mg
Carbohydrates
7 g
Fiber
3 g
Sugars
2 g
Protein
3 g
Sodium
25 mg
Potassium
163 mg