Fried Artichokes and Fennel with Romesco
Recipe developed at The Culinary Institute of America (CIA) by Chef Instructor Brenda La Noue. See Chef Almir Da Fonseca prepare the recipe in the video.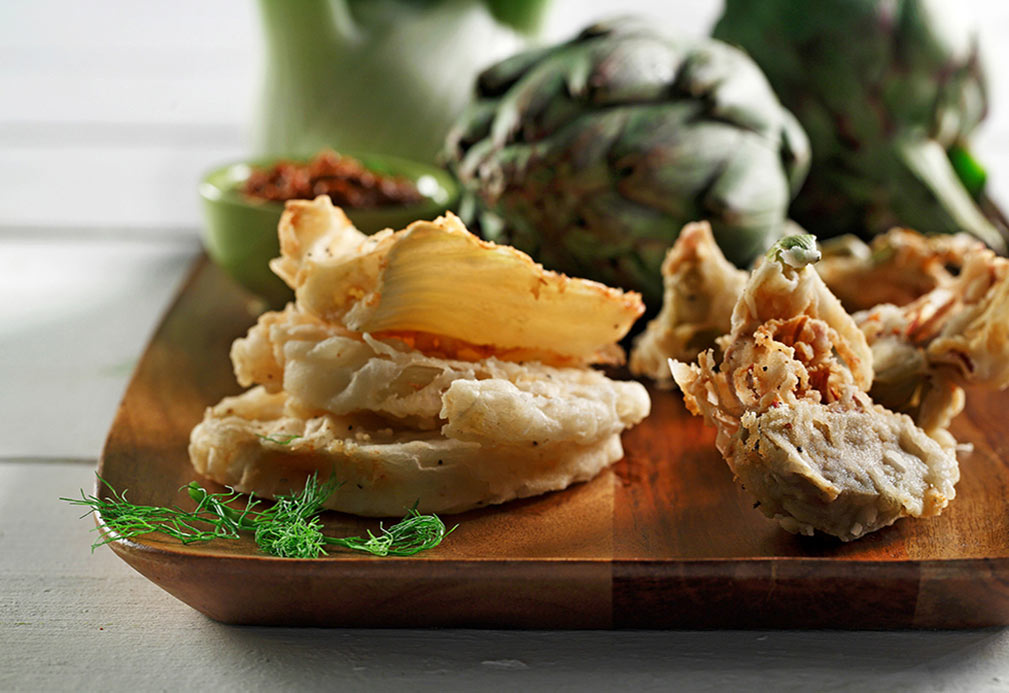 Ingredients
4 cups canola oil 1 L
4 cups instant flour 1 L
1 tsp salt 5 mL
1/4 tsp ground black pepper 2 mL
6 artichoke hearts, thinly sliced
2 fennel bulbs, cored, thinly sliced
4 cups buttermilk 1 L
Instructions
1. In saucepan or deep fryer, heat canola oil to 350 °F (180 °C) .
2. Combine instant flour with salt and pepper. Place in bowl.
3. Soak artichoke and fennel in buttermilk.
4. Shake off the buttermilk and toss in seasoned flour.
5. Shake off excess flour and fry artichokes and fennel in batches for 2 to 3 minutes, until crispy. Remove and drain on paper towels.
6. Sprinkle with salt and pepper.
Yield
6 servings
serving size
1 1/3 cup
nutritional analysis
Calories
630
Total Fat
32 g
Saturated Fat
3 g
Cholesterol
0 mg
Carbohydrates
78 g
Fiber
11 g
Sugars
5 g
Protein
14 g
Sodium
560 mg
Potassium
903 mg