Rustic Hearty Crackers
Perfect to serve with cheese or on top of soup. Your guests will be surprised that you made crackers from scratch and so easy. Canola does not interfere with the other flavors you may be using.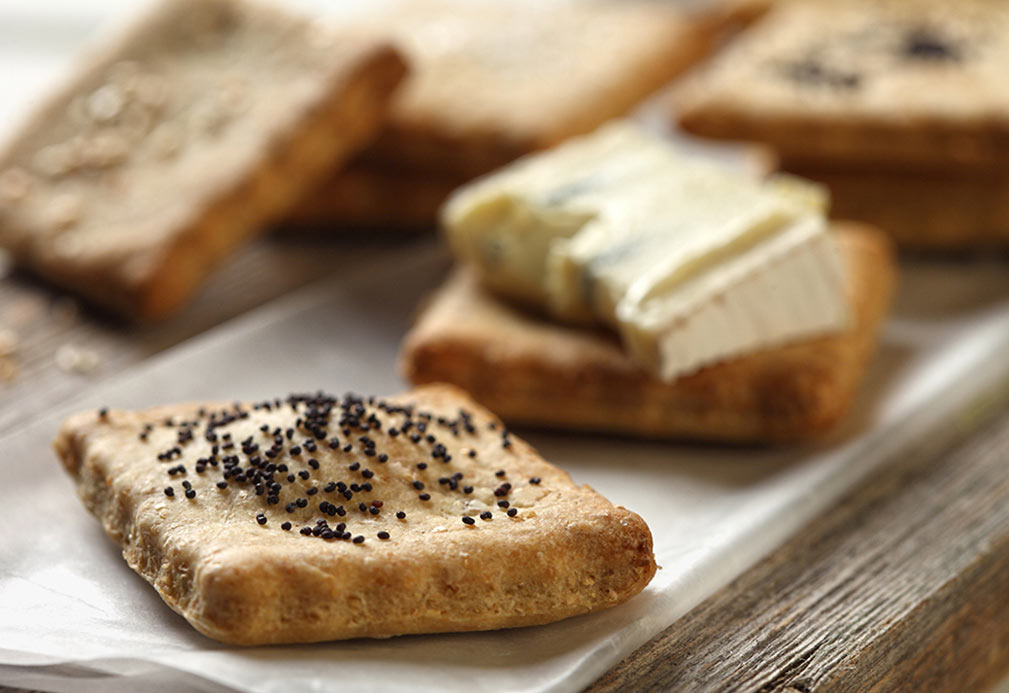 Ingredients
1 1/2 cup semolina flour 375 mL
1 1/2 cup whole-wheat pastry flour 375 mL
1 tsp coarse salt 5 mL
1 cup warm water 250 mL
1/3 cup canola oil 75 mL
2 Tbsp canola oil 30 mL
1/4 cup coarse salt, sesame seeds, poppy seeds, Parmesan cheese 60 mL
Instructions
1. In mixing bowl, fitted with paddle attachment on medium speed, combine semolina flour, whole-wheat pastry flour, and salt. With mixer on, pour water and first amount of canola oil until it forms soft dough, about 5 minutes.
2. Place in bowl, cover with towel. Set on counter for one hour to rest.
3. Preheat oven 450 °F (230 °C). Prepare two baking sheets with parchment paper.
4. Taking 1/4 of the dough, place on floured surface. Roll out to about the thickness of a pie crust (about 1/4-inch [.05 cm]).
5. Using a cookie cutter, cut dough into desired shape. Take a fork and prick top of cut pieces. Brush with a light coating of canola oil, sprinkle with desired salt, seeds or Parmesan cheese. Continue to roll out dough until all is used.
6. Place cut pieces on prepared baking sheet, separating by 1/2 inch (1 cm). Bake in preheated oven until light brown, about 15 to 20 minutes.
7. Keep cookies on pan to cool completely. As they dry, they become crisper.
Yield
24 to 36 crackers
serving size
1 cracker
nutritional analysis
Per Serving (Plain)
Calories
70
Total Fat
3 g
Saturated Fat
0 g
Cholesterol
0 mg
Carbohydrates
9 g
Fiber
1 g
Protein
1 g
Sodium
55 mg