Creamy Black Bean Stack Dip
With this no-bake, colorful recipe, you'll never toil over the perfect potluck dish again!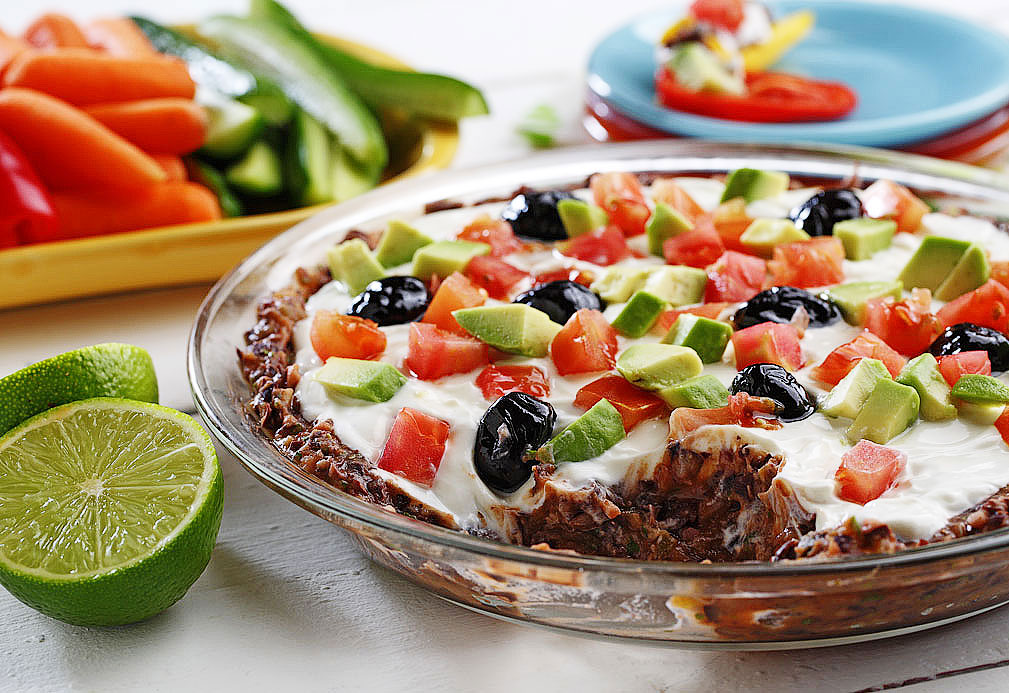 Ingredients
1 can (15 oz/ 443 mL) black beans, rinsed and drained
1/2 cup mild or medium picante sauce 125 mL
3 Tbsp fresh lime juice 45 mL
2 Tbsp canola oil 30 mL
1 Tbsp chopped fresh cilantro leaves, plus sprig for garnish 15 mL
1 medium clove garlic, peeled
1/2 tsp ground cumin 2 mL
3/4 cup fat-free sour cream 175 mL
1 ripe medium avocado, peeled, seeded, and diced
1 medium tomato, seeded and diced
1 can (2.25 oz/ 64 g) sliced ripe olives, drained
1 Tbsp fresh lime juice 15 mL
fresh vegetables, sliced for dipping
Instructions
1. Combine beans, picante sauce, lime juice, canola oil, cilantro, garlic, and cumin in a blender or small food processor, secure lid, and puree until smooth. Place mixture in 9 inch pie pan and spread evenly over all using the back of a spoon. Top with remaining ingredients in the order listed.
2. Serve with variety of fresh vegetables for dipping, such as sliced cucumber, yellow squash, and bell pepper. Garnish dip with sprig of cilantro.
Tip: Adding the lime juice at the end prevents the avocado from discoloring.
Yield
16 servings
serving size
1/3 cup (75 mL)
nutritional analysis
Per Serving
Calories
90
Total Fat
4.5 g
Saturated Fat
0 g
Cholesterol
0 mg
Carbohydrates
10 g
Fiber
3 g
Sugars
1 g
Protein
3 g
Sodium
75 mg
Potassium
161 mg