Salmon and Dill Pancake Muffins
Enjoy these muffins warm from the oven or make a batch and freeze for a quick breakfast-to-go on busy mornings. Canola oil helps produce a moist and tender crumb.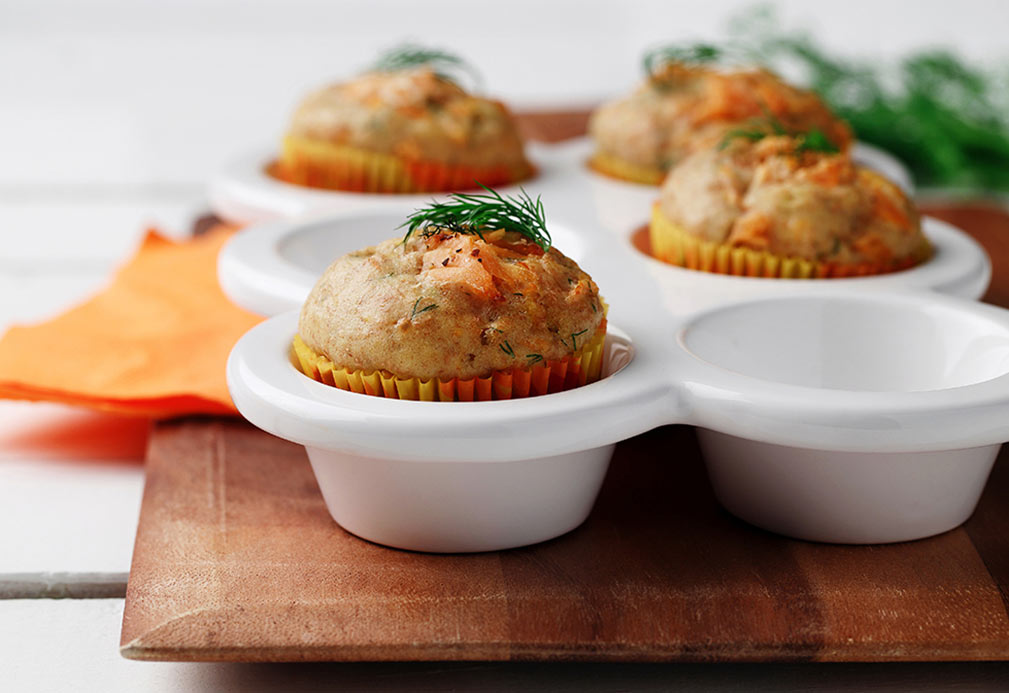 Ingredients
1 1/2 cups whole wheat flour 375 mL
2 Tbsp granulated sugar 30 mL
1 1/2 tsp baking powder 8 mL
1/8 tsp salt 0.5 mL
2 eggs
1 1/2 cups 1% milk 375 mL
1/4 cup canola oil 60 mL
1 cup coarsely grated zucchini or carrots 250 mL
1 cup chopped cooked salmon 250 mL
1/4 cup finely chopped fresh dill 60 mL
Instructions
1. Preheat oven to 350 ⁰F (180 ⁰C). Line muffin tin with muffin liners.
2. In large bowl, combine flour, sugar, baking powder and salt.
3. In separate bowl, beat eggs. Stir in milk, oil, zucchini, salmon and dill. Add wet ingredients to flour mixture and stir well.
4. Scoop about 1/4 cup (60 mL) of batter into each muffin cup. Bake for 18-20 minutes or until slightly golden and toothpick inserted comes out clean. Serve warm. Or cool, wrap in packs and freeze for use later on.
Tip: If you like this portable pancake, experiment with other protein, fruit or vegetable additions such as turkey sausage and blueberries.
Yield
12 muffins
serving size
1 muffin
nutritional analysis
Per Serving
Calories
170
Total Fat
9 g
Saturated Fat
1.5 g
Cholesterol
45 mg
Carbohydrates
15 g
Fiber
2 g
Sugars
4 g
Protein
8 g
Sodium
190 mg
Potassium
121 mg