Shrimp and Pork Siu Mai
A great recipe for company!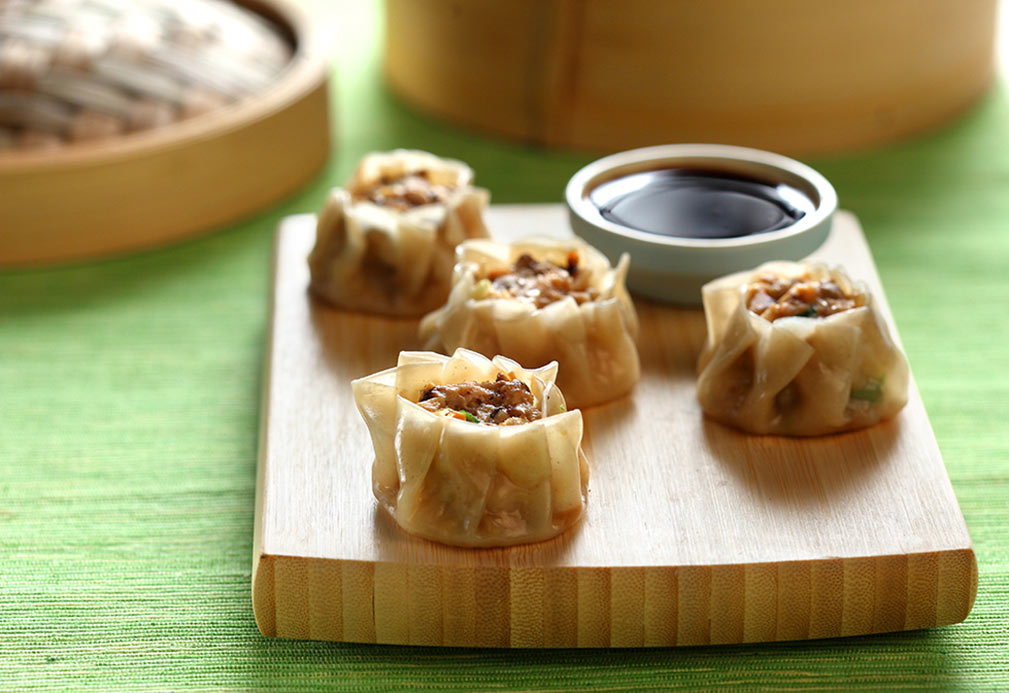 Ingredients
Filling
2 tsp canola oil 10 mL
4 dried black or shiitake mushrooms
1 tsp low sodium soy sauce 5 mL
1/2 lb medium raw shrimp, peeled and deveined 250 g
1/4 lb pork 124 g
4 oz bamboo shoots 125 g
Marinade
1/2 tsp dry sherry 2 mL
1 tsp sesame oil 5 mL
1 tsp low sodium soy sauce 5 mL
1 Tbsp cornstarch 15 mL
1 egg white
Assembly
30 round wonton wrappers or gyoza wrappers
1 stalk green onion, minced
Instructions
1. Soak mushrooms in hot water, about 20 minutes or until soft. Squeeze out liquid, remove stems and discard. In wok or heavy skillet, heat canola oil. Stir-fry mushrooms for about 2 minutes until slightly browned. Drizzle in soy sauce and sauté until liquid is absorbed. Set aside and cool to room temperature. In food processor or with cleaver, chop mushrooms until fine. Set aside.
2. In food processor or with cleaver, chop shrimp and pork until it is finely chopped. Add bamboo shoots and finely chop. Set aside.
3. In medium bowl, mix mushrooms, ground shrimp, and bamboo shoots together. Add dry sherry, canola oil, sesame oil, sugar, white pepper, cornstarch and egg white. Mix well.   
4. Place 2 tsp (10 mL) filling into center of round wrapper. Pleat wrapper around filling to make a little pouch, leaving top open. Smooth filling on top with spoon.  
5. Arrange as many dumplings with touch each other on a damp cloth in a steamer or layer of lettuce leaves.
6. Steam dumplings for 8 to 10 minutes. Repeat with remaining dumplings.
7. Serve immediately with low-sodium soy sauce.
Yield
30 dumplings
serving size
1 dumplings
nutritional analysis
Per Serving
Calories
40
Total Fat
0.5 g
Saturated Fat
0 g
Cholesterol
15 mg
Carbohydrates
5 g
Fiber
0 g
Protein
3 g
Sodium
65 mg