Skillet-Roasted Apples and Pecans
A quick and easy dessert that will satisfy your sweet tooth without a lot of added sugar.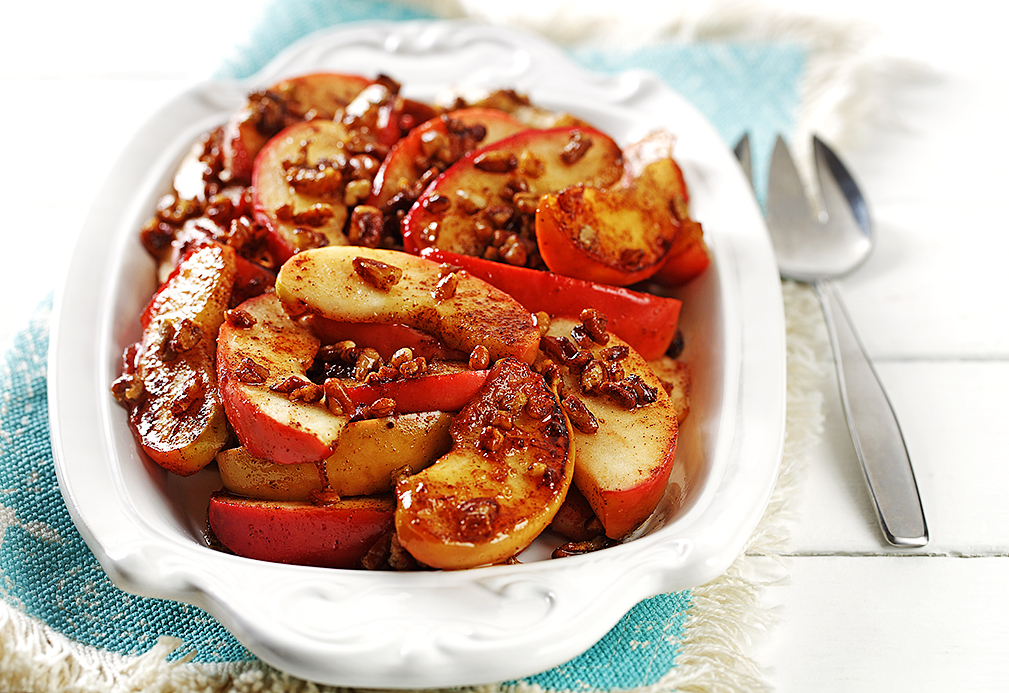 Ingredients
1 1/2 Tbsp canola oil 20 mL
4 cups sliced apple, such as Honey Crisp 1 L
1/2 cup chopped pecans 125 mL
1 Tbsp granulated sugar 15 mL
1 tsp ground cinnamon 5 mL
1/4 tsp ground nutmeg 1 mL
1/8 tsp salt .5 mL
1 tsp vanilla 5 mL
Instructions
1. In a large nonstick skillet, combine apples and canola oil. Toss until well coated.
2. Spread apples over bottom of skillet and cook over medium heat for 5 minutes; do NOT stir.
3. Stir in pecans and cook 4 minutes or until apples are lightly browned and tender-crisp, stirring frequently.
4. Meanwhile, in a small bowl, combine sugar, cinnamon, nutmeg, and salt.
5. Remove apples from heat, stir in sugar mixture and vanilla, cover and let stand 5 minutes to absorb flavors and release juice.
Yield
4 servings
serving size
3/4 cup (175 mL)
nutritional analysis
Per serving
Calories
210
Total Fat
15 g
Saturated Fat
1.5 g
Cholesterol
0 mg
Carbohydrates
21 g
Fiber
4 g
Sugars
15 g
Protein
2 g
Sodium
75 mg
Potassium
177 mg