Slow Cooker Po' Boys
Sink your teeth into this succulent sandwich of "fall apart" beef that slow cooks for hours, but requires little to no work on your part! Canola oil's high heat tolerance is just right for browning the beef.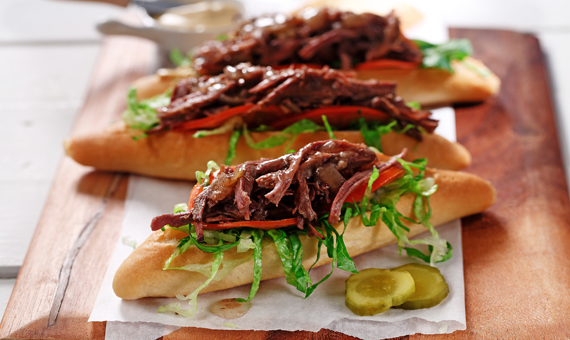 Ingredients
1/2 Tbsp canola oil 7 mL
2 lbs trimmed boneless lean chuck roast, cut into 4 pieces 1 kg
1 1/2 cups chopped yellow onions 375 mL
2 dried bay leaves
1/2 cup water 125 mL
1/3 cup dry red wine (or 1/3 cup water with 2 tsp/10 mL sodium-free beef bouillon granules) 75 mL
2 Tbsp cider vinegar 30 mL
2 tsp Worcestershire sauce 10 mL
1 tsp garlic powder 5 mL
1 1/2 Tbsp canola oil 20 mL
1 Tbsp all-purpose flour 15 mL
1/2 tsp salt 2 mL
1/4 tsp ground black pepper 1 mL
8 torpedo buns
1 Tbsp Dijon mustard 15 mL
Instructions
1. In large skillet, heat 1/2 Tbsp (7 mL) canola oil over medium-high heat. Brown beef on each side for 3 minutes. Place onion and bay leaves in bottom of slow cooker and add beef on top. Pour water into skillet to remove any browned bits, stir and pour over beef.
2. Top slow cooker ingredients with wine, vinegar, Worcestershire sauce and garlic powder. Cover and cook on high for 5 hours or low setting for 9-10 hours.
3. Remove beef with slotted spoon and set aside. Remove and discard bay leaves.
4. In small bowl, whisk together remaining canola oil, flour, salt and pepper until smooth. Gradually whisk into onion mixture in slow cooker until well-blended. Shred beef, return to slow cooker, stir, cover and cook 15 minutes to absorb flavors.
5. To serve, heat bread in preheated 350 °F (180 °C) oven for 5 minutes. Cut in half horizontally. Spread Dijon mustard on top halves and spoon beef mixture on bottom halves then to complete sandwiches.
Yield
4 cups (1 L)
serving size
1/2 cup (125 mL) beef mixture and 1 torpedo bun
nutritional analysis
Per Serving
Calories
320
Total Fat
10 g
Saturated Fat
2 g
Cholesterol
45 mg
Carbohydrates
31 g
Fiber
5 g
Sugars
6 g
Protein
28 g
Sodium
400 mg
Potassium
236 mg