Spicy Turmeric Chicken
Fresh lime juice provides a wonderful contrast to the warm flavors of these zesty chicken breasts that can be on the table in no time. Turmeric, which is also used in curry powder, gives this dish a bright yellow color. With its high smoke point, canola oil works well for grilling.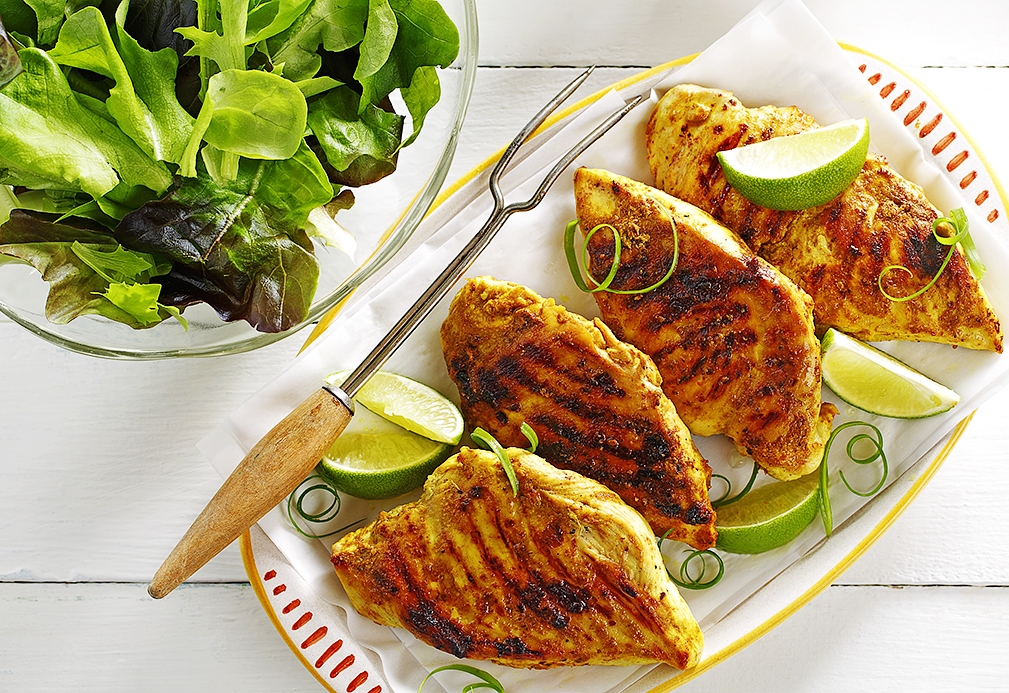 Ingredients
2 Tbsp canola oil 30 mL
1 1/2 Tbsp granulated sugar or honey 20 mL
1 Tbsp prepared mustard 15 mL
2 tsp ground cumin 10 mL
1 tsp ground turmeric 5 mL
1/4 tsp cayenne pepper 1 mL
1/4 tsp salt 1 mL
4 (4-oz./120 g) boneless, skinless chicken breast, flattened to 1/4-inch (0.6 cm) thickness
1 lime, quartered
1 green onion, finely chopped
Instructions
1. In a small bowl, whisk together canola oil, sugar, cumin, turmeric, mustard, cayenne and salt.
2. Heat a grill or grill pan coated with canola oil cooking spray over medium-high heat. Cook chicken 2 minutes; turn and baste with a portion of the sauce and cook 6 minutes or until no longer pink in center, turning and basting frequently.
3. Place on serving platter, squeeze lime juice over all, sprinkle evenly with green onion.
Yield
4 servings
serving size
3 oz. (90 g) cooked chicken
nutritional analysis
per serving
Calories
220
Total Fat
10 g
Saturated Fat
1 g
Cholesterol
85 mg
Carbohydrates
6 g
Fiber
1 g
Sugars
4 g
Protein
26 g
Sodium
240 mg
Potassium
427 mg