Star Anise and Orange Infused Canola Ice Cream
This sophisticated ice cream features the complementary flavors of star anise and orange, and is creamy but lower in saturated fat than its peers because it is made with canola oil. Two separate infusions – one with milk and one with canola oil – amplify the aromatics in the final dessert. See the recipe video below.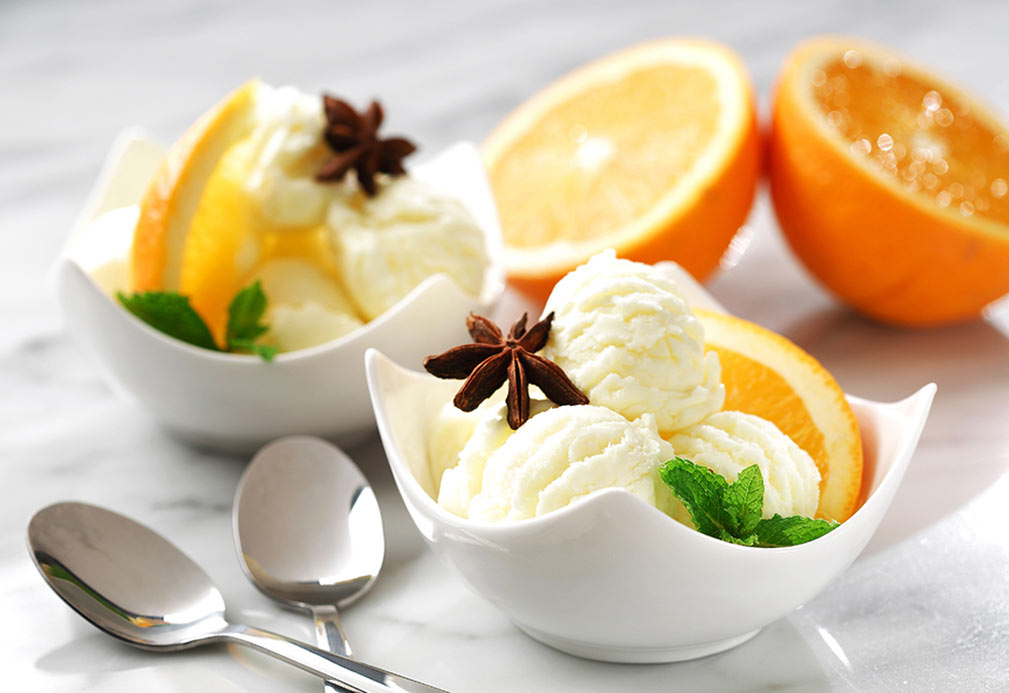 Ingredients
Custard
1 cup whole milk 250 mL
1/4 cup heavy cream 60 mL
1/2 cup granulated sugar 125 mL
1/4 tsp kosher salt 1 mL
4 star anise
5 orange peel strips, no pith
4 large egg yolks
2 Tbsp granulated sugar 30 mL
2–3 cups crushed ice 500–750 mL 
Canola oil infusion
1/2 cup canola oil 125 mL
5 star anise       
5 orange peel strips, no pith
Instructions
1. For milk infusion: In saucepan over high heat, bring milk, cream, sugar and salt to scald, stirring to dissolve sugar. As mixture reaches scalding, add star anise and orange strips. Remove from heat and steep star anise and orange peel for 15 minutes. 
2. For canola oil infusion: In small saucepan, heat canola oil to 140 °F (60 °C) using deep-frying thermometer to measure heat, then add star anise and orange peel. Orange peel will bubble as it enters hot canola oil.  Turn off heat and steep for 15 minutes. Carefully remove star anise and orange peel using heat-proof tongs. 
3. For custard base: In medium metal bowl, whisk egg yolks and sugar until pale, about 2 minutes. Place bowl over steeping milk mixture so that temperature of egg mixture comes to about 98 °F (37 °C). Bring milk mixture to boil again and then gradually whisk 1/4 cup (60 mL) hot milk into egg mixture to temper yolks. Continue tempering by adding another 1/4 cup (60 mL) hot milk mixture to yolks. Then add remaining milk mixture and whisk to combine. 
4. Into medium metal bowl, strain custard through fine-mesh sieve. Whisk infused canola oil into warm base. In separate large metal bowl, add crushed ice. Cool custard by inserting medium metal bowl with custard into large metal bowl full of crushed ice. Stir occasionally. 
Yield
6 servings
serving size
1/3 cup (75 mL)
nutritional analysis
Per Serving
Calories
340
Total Fat
26 g
Saturated Fat
5 g
Cholesterol
140 mg
Carbohydrates
24 g
Fiber
0 g
Sugars
23 g
Protein
4 g
Sodium
130 mg
Potassium
29 mg