Stir-fried Duck with Tamarind Glaze and Mint
Canola oil is a great choice for stir-frying because of its high smoke point and mild flavor.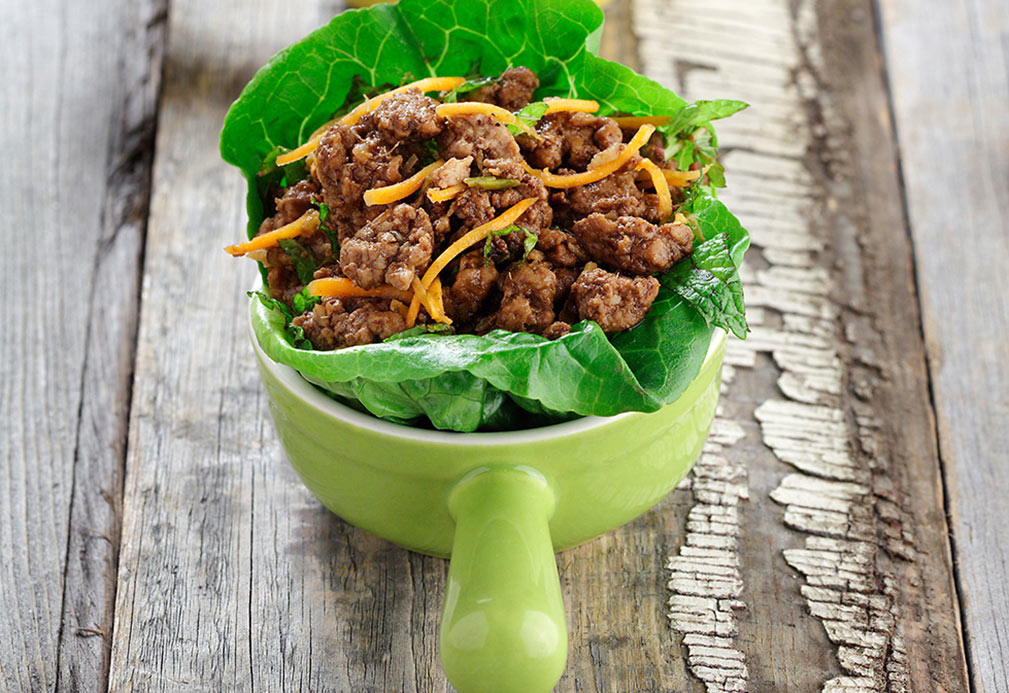 Ingredients
Marinade
 1 stalk lemongrass, minced fine 1
2 Tbsp green onion, thinly sliced 30 mL
1 tsp ginger, minced fine 5 mL
1 tsp garlic, minced fine 5 mL
1 tsp fish sauce 5 mL
Tamarind Glaze
1 cup water 250 mL
1 cup chicken or duck stock 250 mL
1 each star anise 1
1 Tbsp ginger, small diced 15 mL
4 oz tamarind paste 114 mL
2 Tbsp hoisin sauce 30 mL
1 tsp Sriracha chili garlic sauce 5 mL
Duck and Vegetables
1 lb duck legs, skin and bones removed and meat coarsely ground 500 g
1 large head butter lettuce 1
2 - 3 Tbsp canola oil 30 - 45 mL
1 medium carrot, peeled and grated 1
1/2 cup mint leaves, roughly chopped 125 mL
to taste Kosher salt
to taste black pepper
Instructions
1. To prepare the marinade, combine lemongrass, green onion, ginger, garlic and fish sauce. Add duck legs and marinade for at least 1 hour in the refrigerator.
2. To prepare the glaze, combine water, stock, star anise, 1 Tbsp (15 mL) ginger, tamrind paste, hoisin sauce and chili garlic sauce in a medium sauce pan, and bring to a boil. Lower heaat to a simmer and reduce mixture by half. Remove from the heat and let sit for 15 minutes. This will allow the tamarind to soften.
3. While the glaze is cooling, clean the butter lettuce and pick out nice cup shaped leaves (2 to 3 leaves per person). Place the lettuce leaves on desired serving platter.
4. Finish the glaze by mashing the tamarind with a potato masher or fork. Strain the glaze through a fine mesh sieve and set aside.
5. Preheat a large saute pan or wok over high heat. Add canola oil and allow to heat up. Add the duck mixture in small amounts. Stir the meat and cook until brown. Add the glaze and stir until duck is coated. Add carrot and mint. Stir until the mint is wilted. Season with Kosher salt, black pepper, and more chili sauce to taste.
Yield
4 appetizer portions
serving size
nutritional analysis
Per Serving
Calories
400
Total Fat
18 g
Saturated Fat
2.5 g
Cholesterol
120 mg
Carbohydrates
26 g
Fiber
3 g
Protein
35 g
Sodium
820 mg