Corn and Crab Soup
Use canned corn when corn is not in season. A satisfying soup for lunch.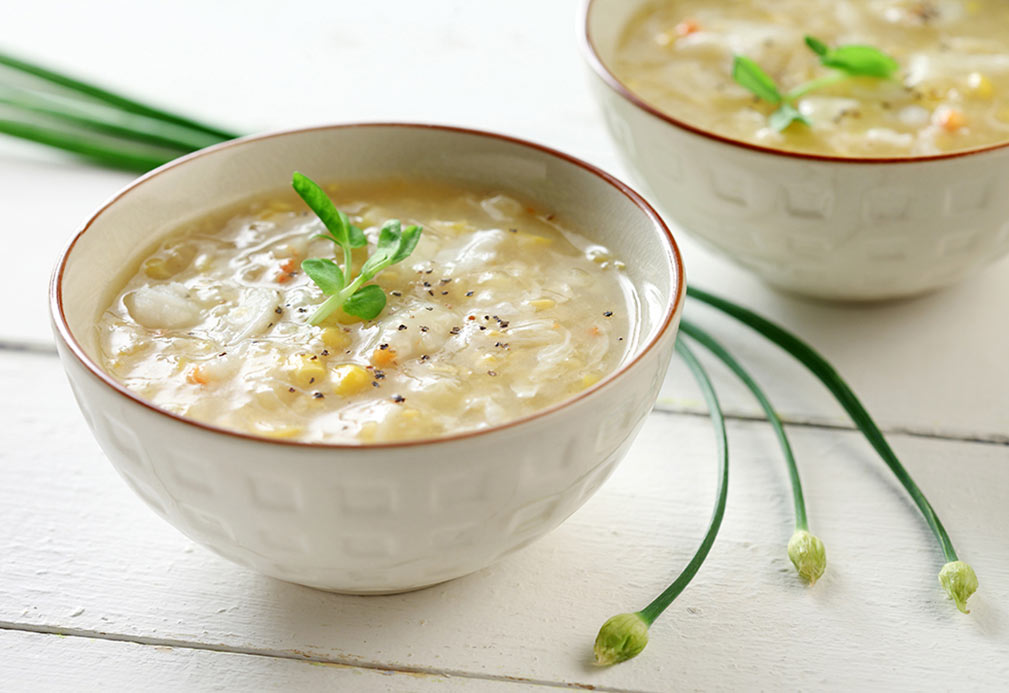 Ingredients
2 tsp canola oil 10 mL
1 tsp minced ginger 5 mL
kernels from 1 ear of fresh corn
6 cups low sodium chicken broth 1.5 L
1 can (12 oz/341 mL) cream-style corn
1/3 cup cooked crab meat 75 mL
1/4 cup cornstarch dissolved in 1/4 cup water 60 mL
2 Tbsp chopped green onion 30 mL
3 egg whites, slightly beaten
1/2 tsp salt or to taste 2 mL
1/4 tsp ground white pepper or to taste 1 mL
Instructions
1. In a stock pot, heat oil over medium-high heat. Add ginger and stir-fry until fragrant, about 30 seconds. Add corn kernels and sauté until slightly browned and softened, about 2 minutes. Add stock and bring to a boil.  Add cream corn and salt to taste. 
2. Bring to a second boil. Add crab meat and then stir in dissolved cornstarch to boiling soup.  Cook until soup thickens. Reduce heat to low. Stirring in 1 direction, mix in egg mixture. Cook 1 minute. Garnish soup with green onion.
Yield
6 servings
serving size
nutritional analysis
Per Serving
Calories
130
Total Fat
2.5 g
Saturated Fat
0 g
Cholesterol
10 mg
Carbohydrates
20 g
Fiber
1 g
Protein
8 g
Sodium
500 mg