Stir-Fried Shrimp and Vegetables with Garden Fresh Pesto
Nature's bounty is divine served alone, tossed with pasta or as part of an entrée salad. Canola oil's mild taste lets the vibrant flavors of other ingredients shine and it can take the heat of stir-frying.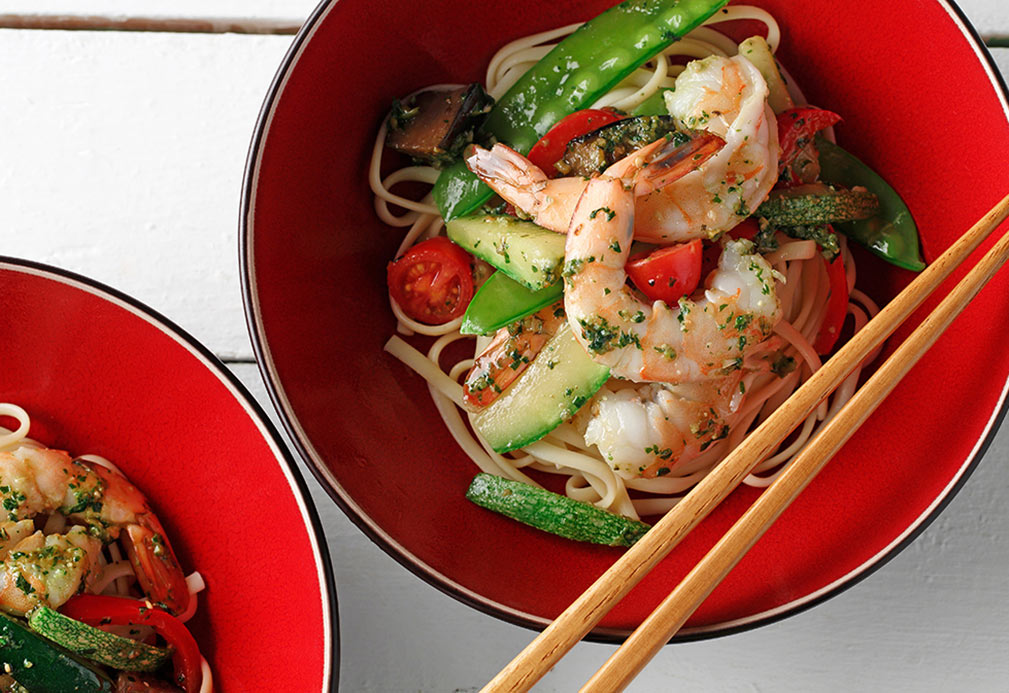 Ingredients
Pesto
1 garlic clove
2 Tbsp pine nuts, toasted 30 mL
1 Tbsp water 15 mL
1/4 cup grated Parmesan cheese 60 mL
1 cup (packed) fresh basil leaves 250 mL
1/8 tsp salt 0.5 mL
1/8 tsp ground black pepper 0.5 mL
3 Tbsp canola oil 45 mL
Stir-Fry
1/2 medium eggplant (about 2 1/2 cups/625 mL cubed)
1 medium yellow squash (about 1 1/2 cups/375 mL sliced)
1 medium red bell pepper (about 1 cup/250 mL sliced)
12 grape or teardrop tomatoes
2 Tbsp canola oil, divided 30 mL
1 lb jumbo raw shrimp (21-25 count), peeled and deveined 500 g
1/2 tsp salt 2 mL
1/4 tsp ground black pepper 1 mL
2 Tbsp fresh lemon juice 30 mL
1 cup sugar snap peas 250 mL
Instructions
For pesto:
1. In blender with motor running, drop garlic and pine nuts through feed tube. Turn off motor and add remaining pesto ingredients. Carefully push ingredients to bottom of bowl and then process to a smooth paste. (Turn off motor, scrape down sides of bowl and push ingredients to bottom of bowl periodically.) When completely smooth, place in refrigerator in air-tight container until needed (up to 3 days). Stir to recombine before serving.
For stir-fry:
1. Cut unpeeled eggplant into bite-size cubes. Slice squash into 1/4-inch (0.6-cm) thick half moons. Remove seeds and ribs from pepper and cut into thin strips. Slice tomatoes in half lengthwise.
2. In large sauté pan, heat 1 Tbsp (15 mL) oil over high heat; add shrimp, salt and pepper. Cook, stirring constantly, until just pink, about 1 minute. Add lemon juice and then transfer shrimp to small bowl until needed.
3. Heat remaining 1 Tbsp (15 mL) canola oil over high heat; add eggplant and cook, stirring constantly, until starting to soften and cook through, about 2 to 3 minutes. Add squash, peppers and snap peas and stir-fry until crisp-tender, about 1 to 2 minutes more.
4. Add shrimp and pesto to pan, tossing to combine. Remove pan from heat and toss in tomatoes. Serve immediately.
Yield: 4 servings. Serving Size: 1 1/2 cups (375 mL) prepared dish.
Tip: Feel free to vary the vegetables based upon what is abundant in your area. If you prefer, substitute the shrimp for scallops or lean cuts of beef, pork or chicken.
Yield
4 servings
serving size
1 1/2 cups (375 mL) prepared dish.
nutritional analysis
Per Serving
Calories
320
Total Fat
21 g
Saturated Fat
2.5 g
Cholesterol
150 mg
Carbohydrates
12 g
Fiber
4 g
Sugars
6 g
Protein
21 g
Sodium
1140 mg
Potassium
13 mg