Summer Berry Chocolate Cake
Baking with canola oil can reduce your saturated fat intake.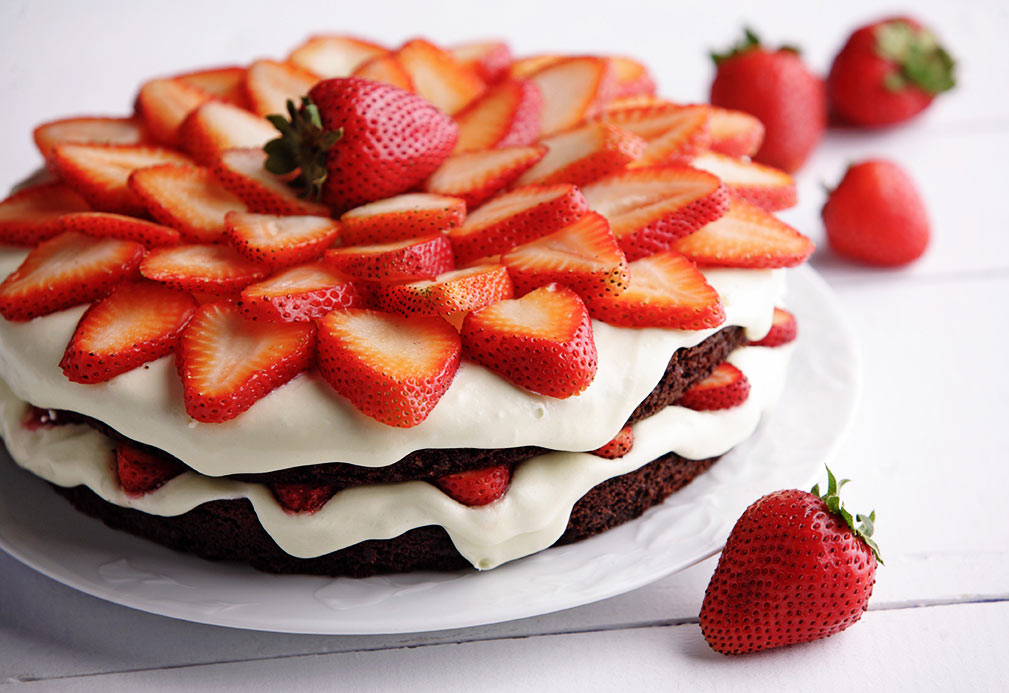 Ingredients
canola oil cooking spray
1 1/2 cups granulated sugar 375 mL
2/3 cup canola oil 150 mL
2 eggs
2 tsp vanilla extract 10 mL
2 2/3 cups all purpose flour 650 mL
2/3 cup cocoa 150 mL
2 tsp baking powder 10 mL
2 tsp baking soda 10 mL
1 tsp salt 5 mL
2 cups boiling water
Filling/Frosting
1 cup whipping cream 250 mL
1 tsp vanilla extract 5 mL
1 qt fresh strawberries, sliced 1 L
Instructions
1. Preheat oven to 350 °F (180 °C).
2. Spray 2 round layer pans (9 inch/22 cm) with canola oil spray.
3. In a large bowl, beat sugar, canola oil, eggs and vanilla for 4 minutes.
4. In another bowl, sift together flour, cocoa, baking powder, baking soda and salt.
5. Add flour mixture alternately with boiling water to the sugar mixture. Beat until ingredients are combine after each addition. Divide the mixture between the two round cake pans.
6. Bake 20 to 25 minutes, or until cake springs back to the touch. Remove cakes from pans and allow to completely cool on wire racks.
7. In a medium bowl, beat whipping cream and vanilla until stiff peaks have formed. Place one cake layer onto a serving plate. Spread with half of the whipping cream and half of the strawberries. Place second cake layer over top. Spread with remainder of whipped cream, allowing it to run down sides of cake. Decorate top of cake with remaining strawberries. Serve or refrigerate until serving.
Yield
8 servings
serving size
nutritional analysis
Per Serving
Calories
380
Total Fat
17 g
Saturated Fat
3 g
Cholesterol
45 mg
Carbohydrates
52 g
Fiber
3 g
Protein
6 g
Sodium
490 mg