Super-greens Caesar Salad with Roasted Chicken
Enjoy the taste of Caesar salad in a much lighter, fibre-rich version featuring three pretty, nutrient-rich greens and almonds instead of croutons.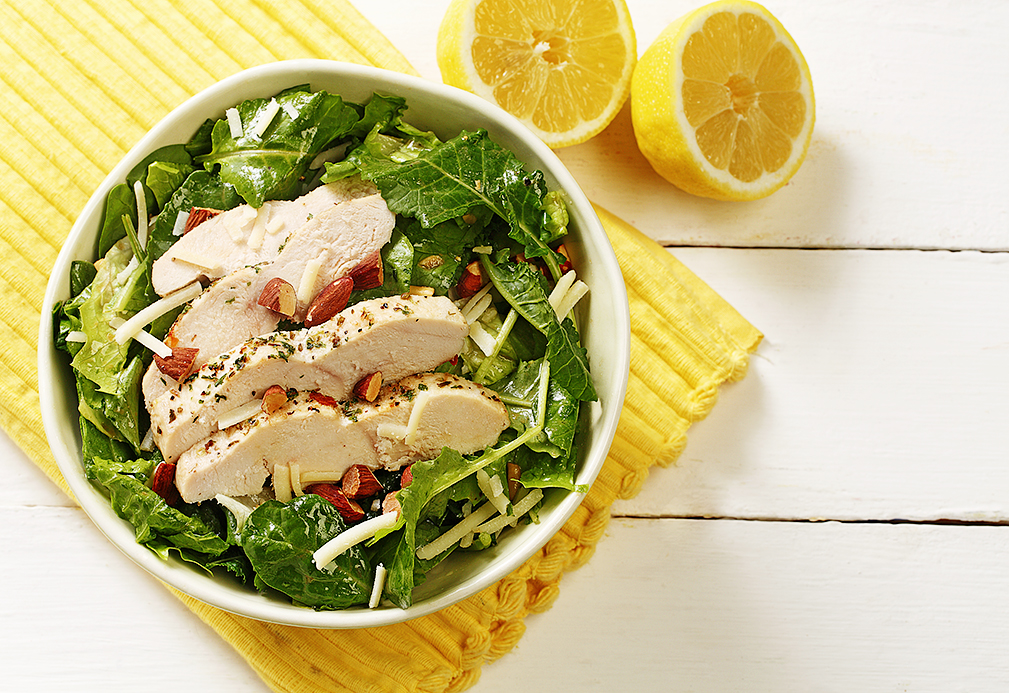 Ingredients
2 cloves garlic, minced
2 Tbsp freshly squeezed lemon juice 30 mL
1 tsp Worcestershire sauce 5 mL
1 tsp Dijon mustard 5 mL
1/4 tsp freshly ground black pepper 1 mL
1/4 cup canola oil 60 mL
3 Tbsp Parmesan cheese, grated, divided 45 mL
4 cups baby kale leaves 1 L
4 cups baby spinach leaves 1 L
4 cups chopped romaine lettuce 1 L
3 (4oz./125 g) roasted, skinless chicken breasts, sliced
1/2 cup coarsely chopped toasted almonds 125 mL
Instructions
1. Make dressing: In a small glass jar with a lid, combine garlic, lemon juice, Worcestershire sauce, Dijon mustard, and pepper. Shake well to combine. Add canola oil and 1 Tbsp (15 mL) of the Parmesan cheese and shake well to blend.
2. In large bowl, place kale, spinach, and romaine lettuce and toss well.
3. Drizzle dressing over salad and toss well.
4. Serve salad garnished with sliced chicken and remaining Parmesan cheese.
Yield
6 servings
serving size
2 cups (500 mL) of salad with dressing and half a chicken breast
nutritional analysis
Per serving
Calories
240
Total Fat
15 g
Saturated Fat
2 g
Cholesterol
50 mg
Carbohydrates
5 g
Fiber
3 g
Sugars
1 g
Protein
22 g
Sodium
170 mg
Potassium
284 mg