Kale, Beet, and Chickpea Power Bowls
The "secret sauce" here is the amazing dressing! It also makes a great dip for grilled vegetables, prawns or chicken.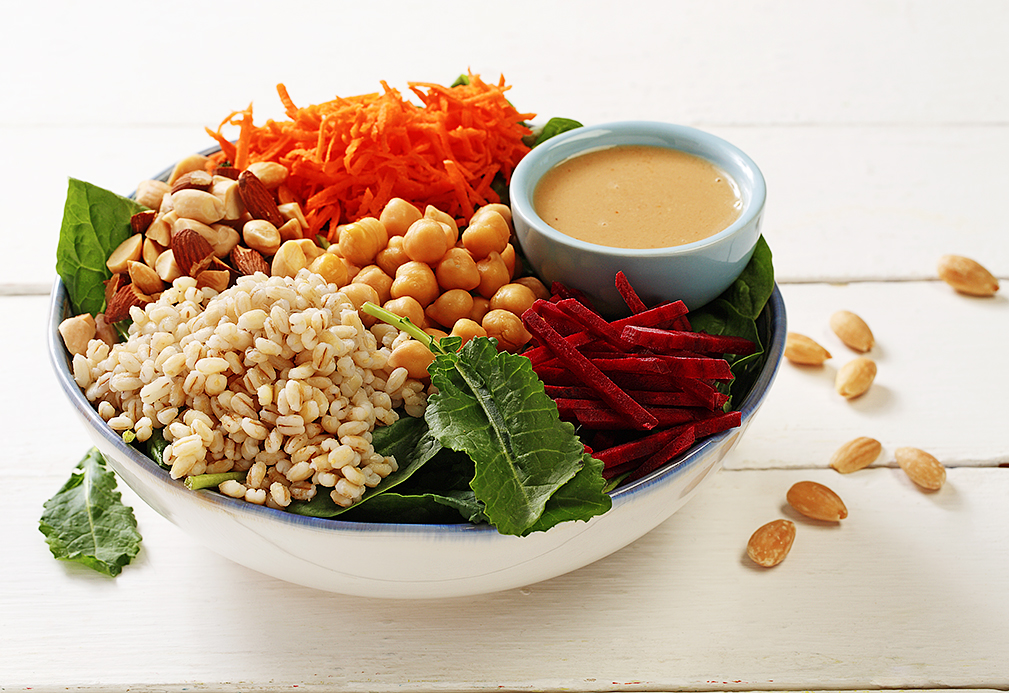 Ingredients
1 Tbsp water 15 mL
1 Tbsp sodium-reduced soy sauce 15 mL
1 Tbsp apple cider vinegar 15 mL
1 Tbsp grated Parmesan cheese 15 mL
1 tsp minced garlic 5 mL
1 Tbsp natural, unsalted peanut butter or tahini 15 mL
6 Tbsp canola oil 90 mL
3 cups cooked barley or brown rice 750 mL
6 cups fresh kale leaves or spinach, stems removed 1.5 L
1 cup grated fresh beets 250 mL
1 cup grated carrots 250 mL
2 cups cooked or canned chickpeas, drained and rinsed 500 mL
1 cup almonds, toasted and chopped 250 mL
Instructions
1. Make dressing: In small bowl, whisk together water, soy sauce, cider vinegar, Parmesan cheese, and garlic. Blend in peanut butter. Gradually whisk in canola oil until dressing is combined. Set aside.
2. Assemble the salad in six individual bowls by topping cooked barley or rice with kale, beets, carrots, chickpeas, and almonds. Drizzle with 1 Tbsp (15 mL) of dressing to serve.
Note: Any leftover dressing can be refrigerated and used later for another salad, quinoa, grilled fish, or chicken.
Yield
6 servings
serving size
1 cup (250 mL) and 1 Tbsp (15 mL) of dressing
nutritional analysis
Per serving
Calories
410
Total Fat
21 g
Saturated Fat
2 g
Cholesterol
0 mg
Carbohydrates
46 g
Fiber
11 g
Sugars
5 g
Protein
14 g
Sodium
85 mg
Potassium
663 mg