Sweet and Spicy Pecans
Take this tasty snack to your next party-it has a great salty and sweet flavor. Once your guests take one bite they will be back for more!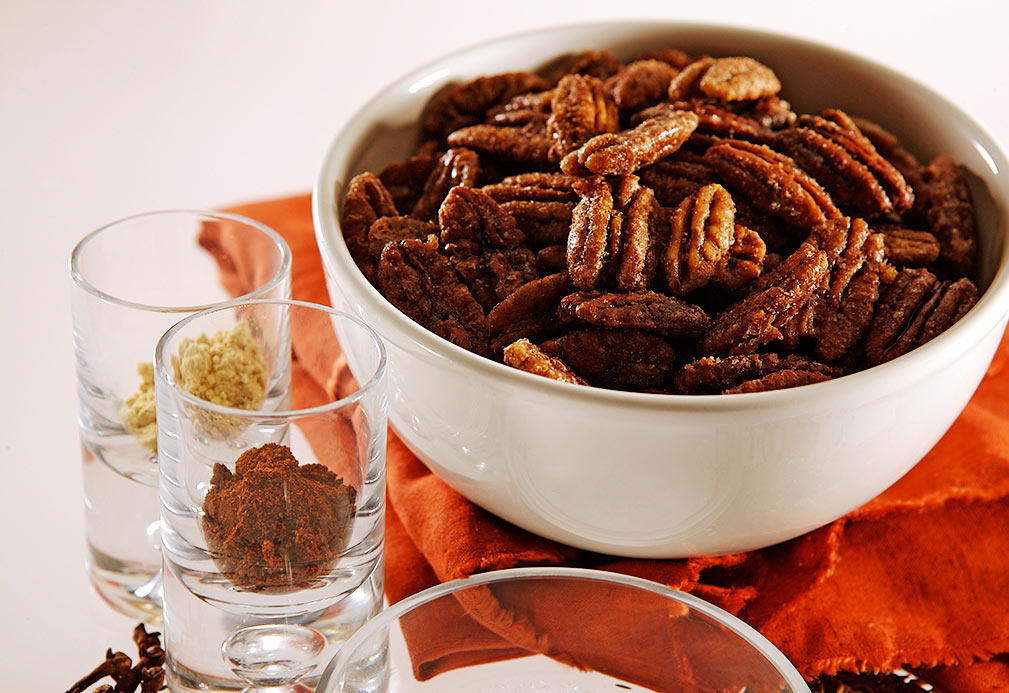 Ingredients
5 cups pecan or walnut halves (1 lb) 1.25L
1/2 cup granulated sugar 125 mL
2 Tbsp canola oil 30 mL
1 Tbsp ground cumin 15 mL
1 tsp each chili powder and ground coriander 5 mL
3/4 tsp salt 4 mL
1/2 tsp ground ginger 2 mL
1/4 tsp each cinnamon, cloves and cayenne pepper 1 mL
Instructions
1. In boiling water, blanch pecan halves for 1 minute; drain well. Transfer immediately to large bowl. Sprinkle with sugar and drizzle with oil; toss to coat well. Let stand for 10 minutes.
2. On greased foil-lined, rimmed baking sheet, spread pecans in single layer. Bake in 325 °F (160 °C) oven, turning every 5 minutes for about 25 minutes or until nuts are crisp and slightly darkened.
3. Meanwhile, in metal cake pan or other heatproof pan, combine cumin, chili powder, coriander, salt, ginger, cinnamon, cloves and cayenne. In oven, toast along side nuts for 5 minutes. Dump nuts into large bowl; sprinkle with spices and toss to coat well. Spread in single layer on baking sheet to cool. Store in airtight containers for up to two weeks.
Yield
12 servings
serving size
1 serving
nutritional analysis
Per Serving
Calories
370
Total Fat
35 g
Saturated Fat
3 g
Cholesterol
0 mg
Carbohydrates
15 g
Fiber
5 g
Protein
4 g
Sodium
150 mg