Banana Chocolate Chip Brownies
The perfect recipe to do with kids! You only need one big bowl and a spoon. Bananas and canola oil make these the moistest, richest, chocolaty brownies ever! Yummy!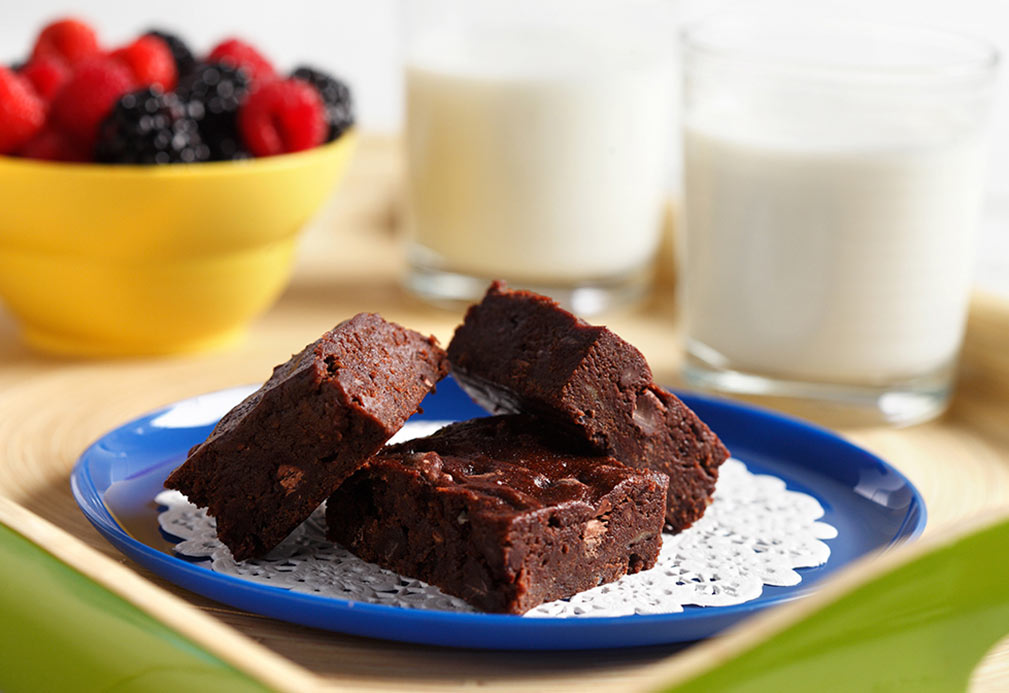 Ingredients
1/2 cup canola oil 125 mL
1/2 cup unsweetened cocoa powder 125mL
1 cup granulated sugar 250 mL
2 large eggs 
1 tsp pure vanilla extract 10 mL
1 medium banana, mashed (approx. 2/3 cup/150 mL)
2/3 cup all-purpose flour 150 mL
1/4 tsp salt 1 mL
1 cup semi-sweet chocolate chips 250 mL
1/4 cup icing sugar 60 mL
Instructions
1. Preheat oven to 350°F (180°C). Line a 9x9x2-inch (22cm x 22cm x 5 cm) baking pan with foil and parchment paper, spray with canola spray. Set aside.
2. In a large bowl, with a whisk blend canola oil and cocoa powder well. Add sugar, eggs, and vanilla. Using a wooden spoon, add bananas, flour, salt and chocolate chips.
3. Pour batter into pan, smooth to the sides. Bake 35 to 40 minutes or until a toothpick inserted into the center comes out with moist crumbs.
4. Let cool completely in pan before slicing. Dust with icing sugar.
Yield
16 slices
serving size
1 slice
nutritional analysis
Per Serving
Calories
210
Total Fat
11 g
Saturated Fat
2.5 g
Cholesterol
25 mg
Carbohydrates
29 g
Fiber
1 g
Sugars
22 g
Protein
2 g
Sodium
45 mg