Sweet Balsamic Sirloin Steak
Canola oil remains free-running when refrigerated, making it an excellent choice for marinades. Canola oil's high smoke point also makes it a good choice for grilling.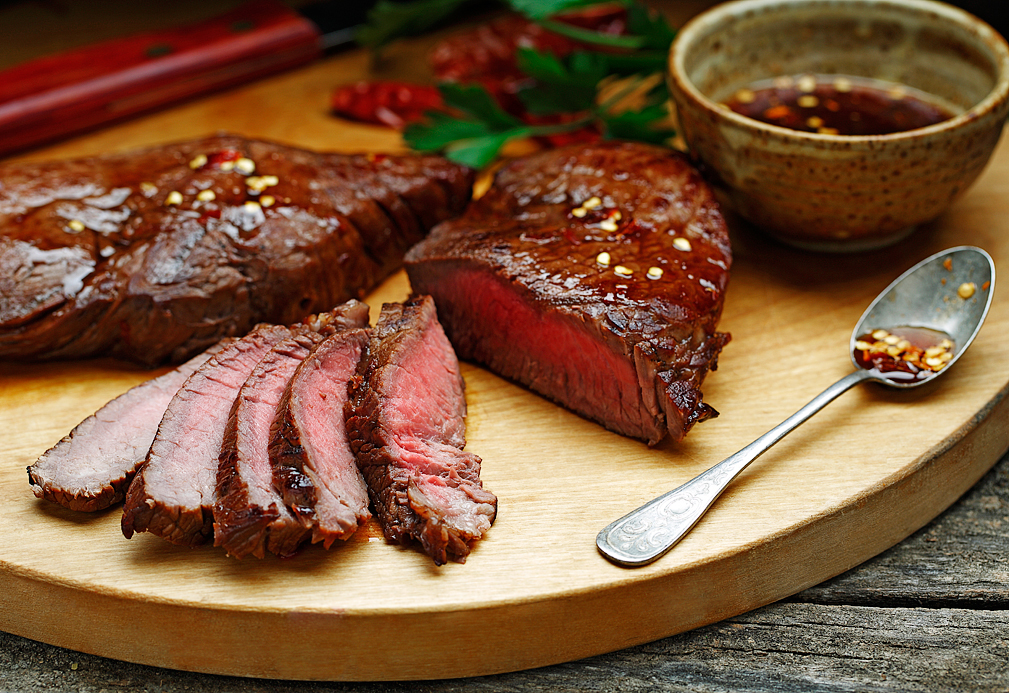 Ingredients
1 lb lean sirloin steak, trimmed of fat 500g
2 Tbsp light soy sauce 30 mL
1 Tbsp canola oil 15 mL
2 Tbsp granulated sugar 30 mL
2 Tbsp balsamic vinegar 30 mL
1/2 tsp dried pepper flakes 2 mL
1/8 tsp salt .5 mL
Instructions
1. Place steak, soy sauce, canola oil, sugar, vinegar, pepper flakes and salt in a large resealable plastic bag. Seal tightly and shake back and forth to allow ingredients to blend evenly. Refrigerate 24 to 48 hours, turning occasionally.
2. Preheat grill or broiler. Coat cold grill rack or broiler rack with canola cooking spray and place over grill or broiler pan. Remove beef from marinade, reserving marinade. Place beef on top of rack and cook 5 minutes, turn and cook 4 minutes longer or until desired doneness. Remove from rack and place on cutting board 5 minutes before thinly slicing diagonally grain.
3. Meanwhile, place reserved marinade in a small saucepan. Bring to boil over high heat and continue boiling 2 minutes or until reduced to 1/4 cup (60 mL). Watch carefully to not over-reduce. Remove from heat. Place sliced beef on serving platter and drizzle sauce evenly over steak.
Yield
4 servings
serving size
1 serving
nutritional analysis
Per Serving
Calories
230
Total Fat
12 g
Saturated Fat
3.5 g
Cholesterol
55 mg
Carbohydrates
8 g
Fiber
0 g
Protein
20 g
Sodium
400 mg