Beef Bulgogi
"Bulgogi" is a Korean term for marinated, barbecued beef. Here it's tossed with spices, canola oil and vegetables. Wrap it up in lettuce leaves to make mini bulgogi bites.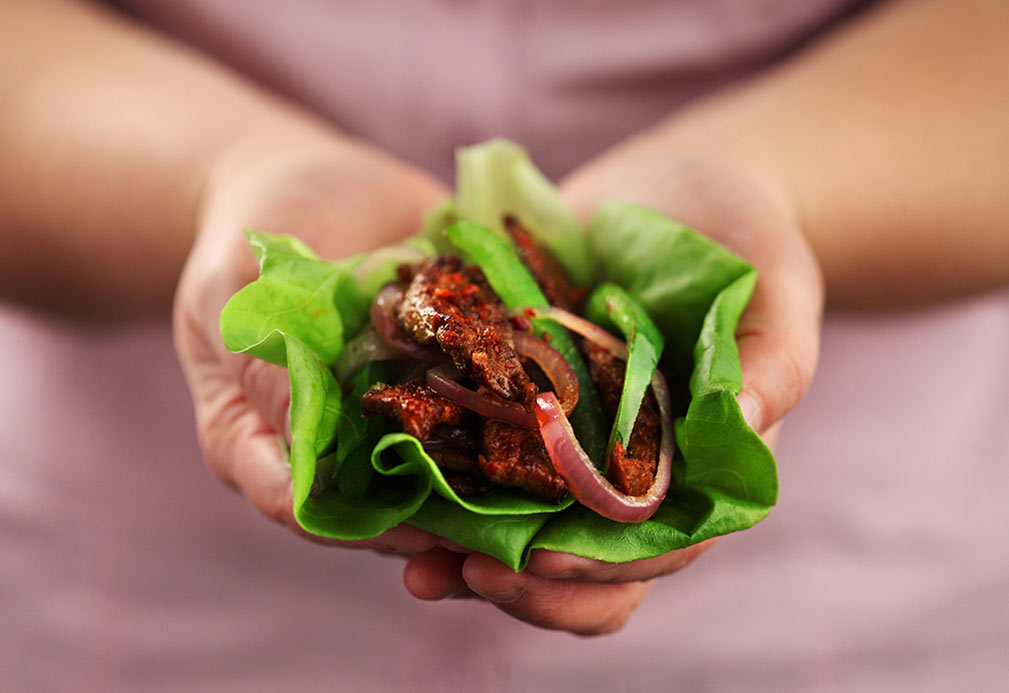 Ingredients
2 Tbsp canola oil 30 mL
1 1/2 lbs rib-eye steak, trimmed, cut into very thin strips 750 g
2 Tbsp low-sodium soy sauce 30 mL
2 Tbsp garlic chili sauce 30 mL
1 Tbsp brown sugar 15 mL
3 cloves garlic, minced
1 Tbsp freshly grated ginger 15 mL
2 large red onions, thinly sliced
1 green pepper cut into 1/4 inch strips
1 head lettuce, separated into individual leaves
Instructions
1. In large non-stick skillet, heat canola oil. Add beef strips and sauté over medium-high heat until just cooked through, about 3 to 5 minutes. Remove set aside.
2. In small bowl, combine soy sauce, garlic chili sauce, brown sugar, garlic and ginger. Mix well.
3. Toss onions into heated skillet and cook until onions are just tender, about 6 to 8 minutes. Add green pepper strips and beef back to pan and heat through, about 1 to 2 minutes.
4. To serve, roll up beef mixture in lettuce leaves.
Yield
8 servings
serving size
1 cup (25 mL)
nutritional analysis
Per Serving
Calories
200
Total Fat
11 g
Saturated Fat
3.5 g
Cholesterol
35 mg
Carbohydrates
9 g
Fiber
2 g
Protein
17 g
Sodium
270 mg