Thai Chicken Stir-Fry
A great recipe for company, and quick to do!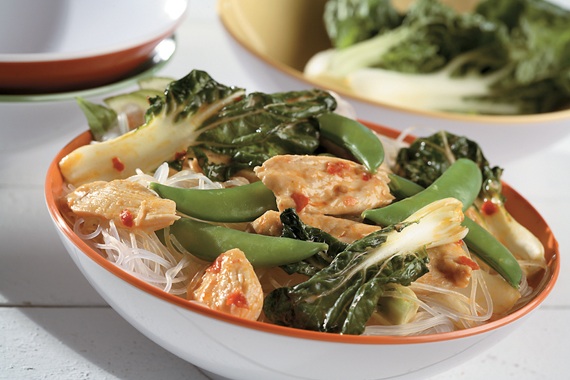 Ingredients
2 skinless, boneless chicken breasts, cut into thin strips
2 Tbsp chili-garlic sauce 30 mL    
2 - 3 Tbsp canola oil 30 - 45 mL    
2 cup snow peas, trimmed 500 mL    
3 heads baby bok choy, chopped into large pieces 3 heads     
1 cup canned, unsweetened coconut milk 250 mL    
1 tsp cornstarch 5 mL    
1/2 tsp salt 2 mL       
3 Tbsp thinly sliced fresh basil 45 mL  
Instructions
1. In large wok, heat canola oil over medium-high heat. Quickly stir fry chicken in oil until lightly browned and juices run clear. Stir in chili-garlic sauce. Remove chicken from wok and set aside.
2. Add 1 Tbsp (15 mL) more canola oil to wok and heat. Stir fry snow peas and bok choy stalks for 2 - 3 minutes (leave the leaves out until the end of cooking time). Add coconut milk. Heat and stir.
3. Dissolve cornstarch in 1 Tbsp (15 mL) water and add to wok along with the chicken and bok choy leaves. Heat and stir to thicken the coconut milk, about 2 - 3 minutes. Season with salt and sprinkle with basil. Serve over cooked rice.
Yield
  4 servings
serving size
nutritional analysis
Per Serving
Calories
330
Total Fat
24 g
Saturated Fat
12 g
Cholesterol
35 mg
Carbohydrates
13 g
Fiber
3 g
Protein
18 g
Sodium
640 mg