Tofu Nuggets with Kale
When my kids were young, they would refer to these as "fast-food nuggets". Indeed, the nut butter and sesame seed crust is as addictive as it is nutritious. Sautéing the tofu in canola oil, which can take the heat, helps achieve that great crispy exterior.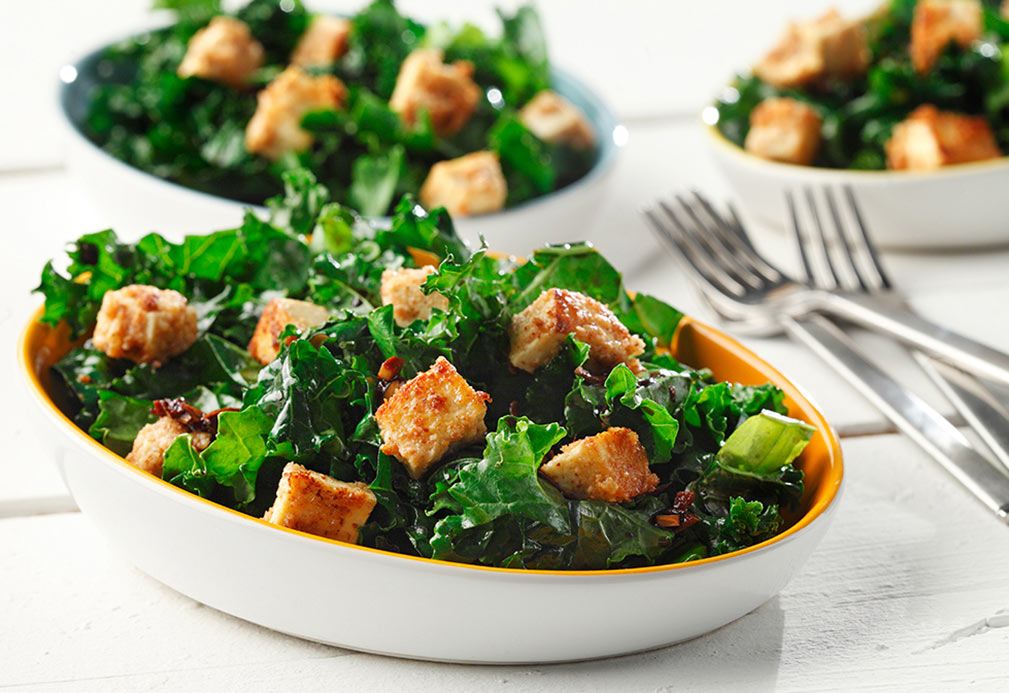 Ingredients
1 lb extra firm tofu, rinsed 500g
1/4 cup smooth almond butter 50 mL
2 Tbsp Dijon mustard 25 mL
2 Tbsp fresh lemon juice 25 mL
2 Tbsp clover honey 25 mL
1/4 tsp salt 1 mL
1/4 cup sesame seeds 50 mL
1/3 cup canola oil 75 mL
6 cups coarsely chopped, rinsed kale, stems removed 1.5 L
4 garlic cloves, finely chopped
1 Tbsp minced fresh gingerroot 15 mL
2 Tbsp soy sauce 25 mL
Instructions
1. Cut tofu into 1/2 x 1/4 inch cubes (1 cm x 5 mm). In medium bowl, whisk together almond butter, mustard, lemon juice, honey and salt; add tofu and toss gently to coat. With slotted spoon, remove to shallow dish, reserving remaining sauce. Sprinkle with sesame seeds to coat. 
2. In large, nonstick skillet, heat 3 Tbsp (45 mL) canola oil over medium-high heat. Sauté tofu, turning until browned on all sides, about 6-8 minutes. Remove and keep warm. 
3. To same skillet, add remaining 2 Tbsp canola oil (30 mL); sauté kale over medium heat for 3-4 minutes. Add garlic, ginger and soy sauce; sauté for another 3-4 minutes. 
4. Place kale on platter and add tofu on top. Drizzle with reserved sauce.
Cook's Tips: You can use any leafy green such as spinach, Swiss chard or rapini. Peanut, cashew or hazelnut butter could be substituted for almond butter. Check what's in your cupboard or pantry and use it up. Leftovers fit perfectly into a pita or wrap.
Yield
6 servings
serving size
1 cup (250 mL)
nutritional analysis
Per Serving
Calories
350
Total Fat
25 g
Saturated Fat
1.5 g
Cholesterol
0 mg
Carbohydrates
20 g
Fiber
4 g
Protein
13 g
Sodium
410 mg