Turkey, Toasted Almond and Wild Rice Salad
Take a break from those leftover turkey sandwiches with this high-flavored salad of wild rice, slivered almonds, chili peppers, apricot and crumbled blue cheese. Canola oil's mild taste lets those bolder flavors – hello, poblanos! – step to the fore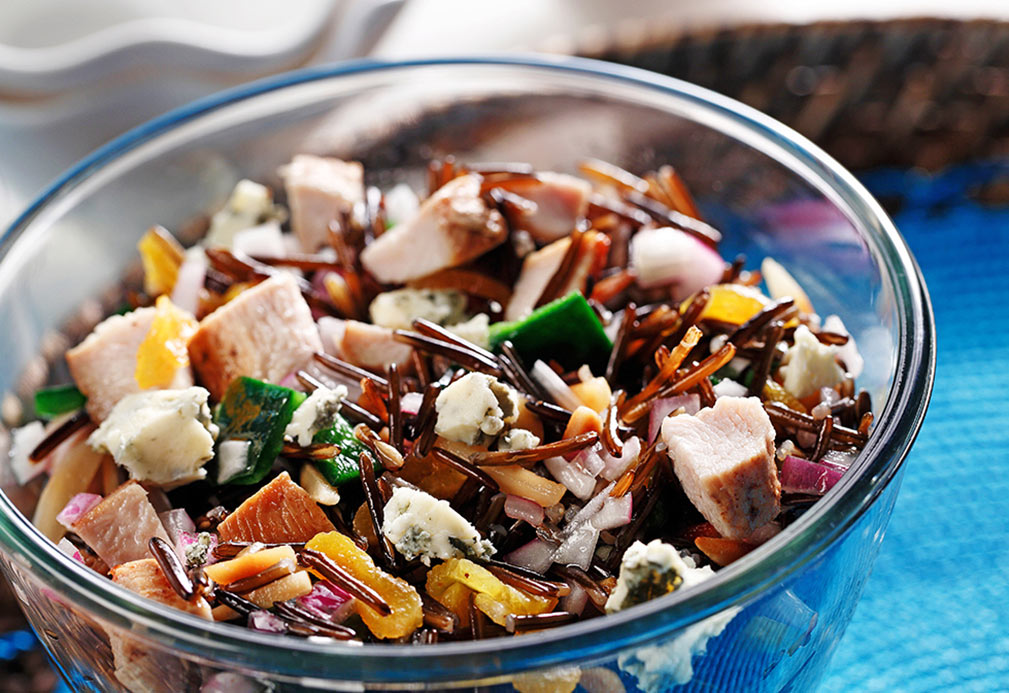 Ingredients
1/4 cup slivered almonds 60 mL
1/2 cup wild rice 125 mL
2 cups water 500 mL
1/2 tsp salt 2 mL
2 cups diced cooked turkey breast meat 500 mL
1/2 cup diced poblano chili peppers 125 mL
1/2 cup diced red onion 125 mL
1/4 cup chopped dried apricots 60 mL
1 Tbsp canola oil 15 mL
2 Tbsp white balsamic vinegar 30 mL
1 tsp granulated sugar 5 mL
1/2 tsp salt 2 mL
1/4 cup reduced-fat blue cheese 60 mL 
Instructions
1. In medium skillet, toast almonds 1-2 minutes or until golden brown, stirring frequently. Set aside on separate plate. 
2. In saucepan, combine wild rice, water and 1/2 tsp (2 mL) salt. Bring to a boil, reduce and simmer until most of rice has split and is tender, about 45 minutes. Place in fine mesh sieve and run under cold water to cool quickly, drain well. 
3. In large bowl, combine cooked rice, turkey, peppers, onion, apricot, canola oil, balsamic vinegar, sugar and salt. Toss until well blended. Gently stir in cheese. Garnish with almonds and serve.
Yield
4 servings (about 5 cups/1.25 L)
serving size
1 1/4 cups (310 mL)
nutritional analysis
Per Serving
Calories
290
Total Fat
10 g
Saturated Fat
1.5 g
Cholesterol
50 mg
Carbohydrates
27 g
Fiber
3 g
Sugars
7 g
Protein
25 g
Sodium
450 mg