Prosciutto and Hearts of Palm Salad with Champagne Vinaigrette
This classy salad makes a perfect starter for a dinner party. Keep the champagne vinaigrette recipe with canola oil on hand for other salads in your recipe collection.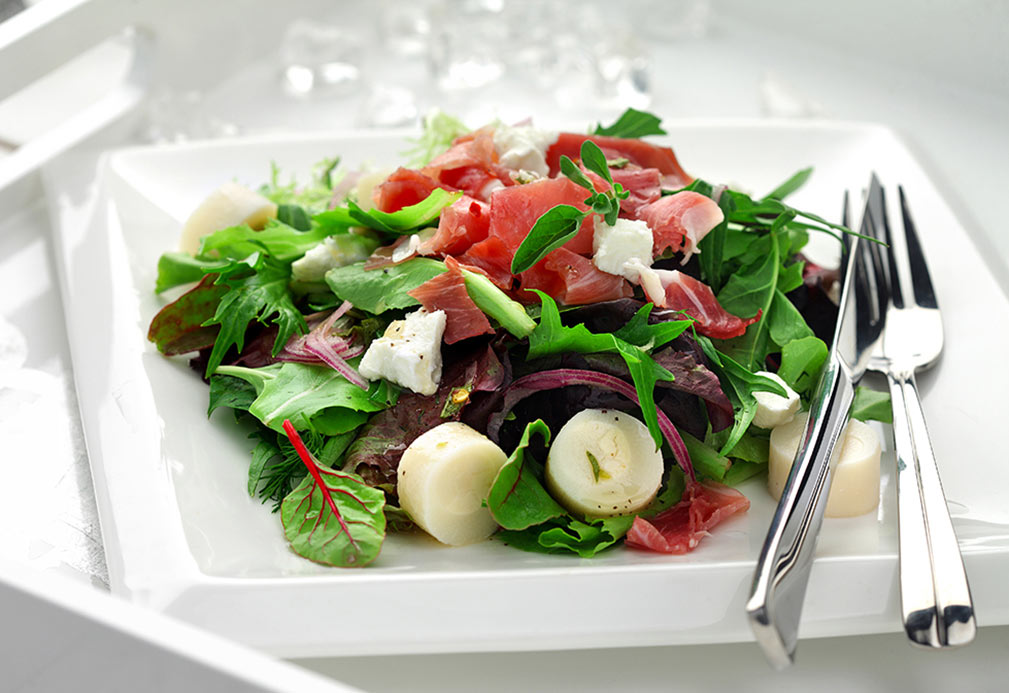 Ingredients
Salad
6 cups shredded romaine or spring greens (about 6 oz/170 g) 1.5 L
1/2 cup thinly sliced red onions (2 oz/60 g) 125 mL
1 can (14 oz) hearts of palm, cut into 1/2-inch rounds 398 mL
2 oz thinly sliced prosciutto, layers separated and chopped 60 g
Dressing
1/3 cup champagne 75 mL
1/3 cup white balsamic vinegar 75 mL
1/3 cup canola oil 75 mL
2 Tbsp granulated sugar 30 mL
2 Tbsp chopped fresh oregano 30 mL
1 medium garlic clove, minced
1 Tbsp regular Dijon mustard 15 mL
3/4 tsp salt 4 mL
1/2 tsp coarsely ground black pepper 2 mL
1/8 to 1/4 tsp dried pepper flakes 0.5 to 1 mL
3 oz goat cheese, cut into small pieces 90 g
Instructions
1. In salad bowl, combine romaine lettuce, onion, palm and prosciutto.
2. In small jar, combine champagne, vinegar, canola oil, sugar, oregano, garlic, mustard, salt, pepper and pepper flakes. Secure with lid and shake vigorously until well blended. Pour half of dressing (about 2/3 cup/150 mL) over salad and toss gently.
3. Top with goat cheese and toss gently. Place equal amounts of salad on each of four salad plates.
4. Refrigerate remaining dressing for later use.
Yield
4 servings
serving size
2 cups (500 mL)
nutritional analysis
Per Serving
Calories
210
Total Fat
13 g
Saturated Fat
3 g
Cholesterol
20 mg
Carbohydrates
14 g
Fiber
4 g
Protein
12 g
Sodium
1340 mg