Two Potato Latkes
We've added sweet potato to a traditional potato pancake. Serve as an appetizer or as a side to a main course.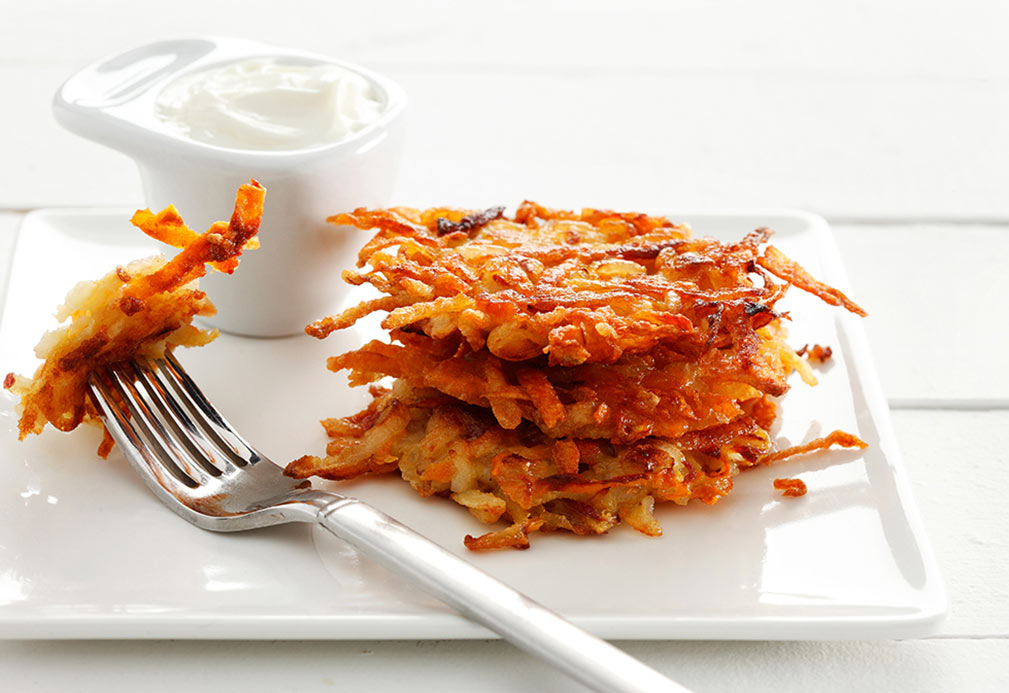 Ingredients
2 cups grated potatoes (unpeeled) 500 mL
1/2 cup peeled, grated sweet potato 125 mL
1/2 cup onion, finely chopped 125 mL
1/2 cup long-grain or short-grain rice, cooked 125 mL
2 eggs, beaten
3 Tbsp brown rice flour 45 mL
1/2 tsp baking powder 2 mL
1/2 tsp salt 2 mL
canola oil for frying
Instructions
1. In a sieve set over the sink or a bowl, combine potatoes, sweet potato, and onion. Using your hands, firmly squeeze handfuls of grated potatoes to remove as much liquid as possible. Transfer to a large bowl and add rice, eggs, brown rice flour, baking powder and salt. Mix well.
2. Preheat oven to 250 °F (120 °C).
3. In a large, wide skillet, over medium-high heat, heat just enough canola oil to cover the bottom of the pan in a thin layer. In batches, using 2 Tbsp (30 mL) of the mixture per latke, drop latkes about 1 inch (2.5 cm) apart in pan. Flatten to 1/4-inch (0.5 cm) thickness with the back of a spoon. Fry for 3 to 5 minutes per side, using 2 spatulas to turn latkes once, until crisp and golden. Drain and place on a parchment lined baking sheet. Place in preheated oven to keep warm.
4. Repeat with remaining mixture, adding canola oil and reheating pan between batches as needed. Serve hot.
Tips: Select a high-starch potato variety, such as Yukon Gold or Russet.
To check that canola oil is at the correct temperature, drop a small amount of the mixture into the hot canola oil. After 1 to 2 minutes, it should be golden in color.
Remove any small cooked bits from the skillet between batches, if necessary.
Yield
10 latkes
serving size
1 latke
nutritional analysis
Per Serving
Calories
140
Total Fat
9 g
Saturated Fat
1 g
Cholesterol
40 mg
Carbohydrates
12 g
Fiber
1 g
Protein
2 g
Sodium
160 mg